China Bans Officials From Lighting Up in Public
Christina Larson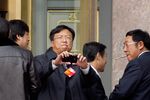 The largest employer in the northern Chinese city of Zhangjiakou is a cigarette factory, which like all of China's tobacco operations is run by a state-owned company. The plant's most famous product is the Zuanshi "Diamond" brand cigarette, after which several streets and public monuments in Zhangjiakou have been named. One of the city's new bridges over the Sanggan River even has white posts designed to resemble cigarettes.
Yet despite the cozy relationship between the tobacco industry and the local government, officials in Zhangjiakou are now prohibited from smoking in public. According to a directive issued by China's State Council, government employees across China will no longer be able to use public funds to buy cigarettes or to smoke at public functions, as Xinhua reported on Sunday. Chain-smoking officials "not only jeopardize the environment and public health, but also tarnish the image of the Communist Party and government offices," the directive reads.
Lighting up inside schools, hospitals, and sports venues will be banned for public servants, alongside tobacco sales and cigarette advertising inside government buildings. The directive also calls for displaying antismoking placards inside government meeting rooms, cafeterias, and restrooms. (Sneaking a puff inside a black Audi with tinted windows will likely still be possible for cadres with chauffeured official vehicles.)
The antismoking directive comes on the heels of other edicts from China's central government aimed at cleaning up officials' behavior and image. Since becoming Communist Party General Secretary in November of 2012, Xi Jinping has spearheaded efforts to ban lavish banquets, unnecessary motorcades, and other extravagant perks on the government dime, as well as luxury funerals held as status markers by families of officials.
Yet the ban on smoking takes aim at a tougher target, as China's massive tobacco industry is government-run and an important source of tax revenue. In this regard, Zhangjiakou is hardly unique.
Each year China's tobacco industry produces more than 2.3 trillion cigarettes—40 percent of the world's total—and is "one of the largest sources of tax revenue for the Chinese government," as Brooking Senior Fellow Cheng Li wrote last year in a report (pdf) entitled The Political Mapping of China's Tobacco Industry and Anti-Smoking Campaign. Li estimated that over the past decade, China's tobacco industry "has consistently contributed 7-10 percent of total annual central government revenues." By his calculations, that amounted to $95.2 billion in 2011.
Moreover, the tobacco industry has friends in high places—among them, Li Keming, who is both deputy director of the State Tobacco Monopoly Administration and Premier Li Keqiang's younger brother. State-run tobacco farms and cigarette factories are also significant employers in many Chinese cities.
At the same time, the public health toll of China's tobacco addiction is unmistakable. China is home to more than 300 million smokers and accounts for one-third of global cigarette consumption. Each year 1.2 million deaths in China are at least partially attributable to tobacco-related diseases.
In a country where high-end cigarettes are often given as bribes and smokes are laid out at nearly every wedding banquet table, the cigarette habit will be hard to break, both culturally and economically. The upcoming Spring Festival holiday—the Chinese New Year—will be the new ban's first big test.
Before it's here, it's on the Bloomberg Terminal.
LEARN MORE