Behind Hollywood's Boom Year: Squeezing More Money From Moviegoers
By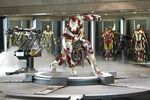 With just a few hours left in the year, Hollywood is serving up a feel-good ending.
Domestic movie ticket sales are expected to top last year's record haul of $10.8 billion and approach $11 billion for the first time, thanks to a strong slate of holiday releases. "Despite the proliferation of other media platforms, whether it's Netflix or video-on-demand, the tried-and-true movie business continues to be pretty solid," says Bloomberg Industries analyst Paul Sweeney. "That gives a lot of investors a little more comfort."

Sure, slick TVs and streaming video options from Netflix and its competitors are threatening the silver screen. The number of tickets sold was flat this year and nowhere near prior peaks scored by films like Spider-Man in 2002. But movie theaters were able to raise prices, thanks in part to a rash of 3D offerings. The average ticket price in 2013 swelled to $8.05, from $7.96 last year, according to Box Office Mojo.
Sweeney says almost half of the audience for 3D films this year chose to pay a premium of about 30 percent to get the full experience, complete with goofy glasses. "It continues to be a nice shot in the arm for a lot of films," he says.
What's more, those practicing the dark art of scheduling releases were able to do a better job of spreading out the movie millions. No picture in 2013 had the box office power of The Avengers or The Dark Knight Rises. Even Iron Man and Katniss Everdeen couldn't keep up. But there were plenty of surprisingly solid performers, such as Gravity, which set a record for an October release, and Frozen, which has quickly become one of Walt Disney's most lucrative animated films of all time.
 
Here's a look at the top 10 movies of 2012:

And here's a look at the top 10 movies of this year:
 


There was a bit of a long-tail effect at theaters this year. But don't expect big-budget, highly publicized films—so-called tent-pole releases—to go away anytime soon. Seven of the top 10 films this year were sequels. Hollywood may be hedging its bets a bit, but it's still putting most of its chips on known quantities.
Before it's here, it's on the Bloomberg Terminal.
LEARN MORE