Turkey Biggest Loser in World Stocks as Crisis Persists
Ye Xie and Katia Porzecanski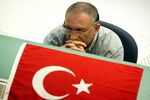 The mounting power struggle between Turkish Prime Minister Recep Tayyip Erdogan and the judiciary is turning the country's stock market into the world's worst performer and driving the currency to unprecedented lows.
The Borsa Istanbul 100 Index has slumped 15 percent in dollar terms this month, the most among more than 90 benchmark gauges tracked by Bloomberg. The measure extended this year's slide to 27 percent, as a corruption probe embroiled Erdogan's cabinet and led to three ministerial resignations. Turkey's lira has sunk 4.9 percent in December, second only to Argentina's peso among emerging-market currencies, and traded at a record low of 2.1764 per dollar last week.
The crisis threatens to undo the economic gains Erdogan made in orchestrating a decade of almost uninterrupted growth that earned Turkey its first investment-grade credit ratings since the early 1990s. The investigation, which Erdogan labeled a coup attempt, is deepening the conflict between the government and followers of U.S.-based Islamic cleric Fethullah Gulen, who are influential in the judiciary and police force.
"This is going to make Turkey stick out like a sore thumb," Arnab Das, founder of London-based consultancy Das Capital, said in a telephone interview on Dec. 26. "The risks in Turkey are becoming more manifest."
Ihlas Holding AS, an Istanbul-based holding company of construction, health care and education businesses, fell 66 percent this year, the worst performer among the 100 members in the Borsa index. Anel Elektrik Proje Taahhut ve Ticaret AS, which offers electromechanical contracting services, tumbled 53 percent.
Bond Selloff
Investors are also dumping Turkish bonds at the fastest pace in two years, sending yields on benchmark two-year notes to a 23-month high of 10.17 percent Dec. 27, according to data compiled by Bloomberg. Foreigners sold a net $1.9 billion in the two weeks through Dec. 20, cutting holdings to a three-month low of $54 billion, from $72 billion in May, central bank data show.
"If interest rates were to remain elevated for a long period and if the currency were to continue weakening, then it definitely would start to impinge on economic performance," Julian Rimmer, a broker at London-based CF Global Trading U.K. Ltd., said in a telephone interview on Dec. 27.
The investigation has become the battleground in a struggle for control of the majority Muslim country between Erdogan and Gulen. The cleric broke with the prime minister this year, ending a partnership that had helped sustain the single-party government since 2002.
BlackRock Buys
For some investors, it has been an opportunity to purchase shares cheaply. BlackRock Inc., the world's biggest money manager, said Dec. 23 it added to its Turkish holdings, especially financial stocks, in a bet that the worst of the turmoil may have passed.
The crisis began Dec. 17 with arrest of the sons of three cabinet ministers as well as the chief executive officer of state-run Turkiye Halk Bankasi AS amid probes into bribery, money laundering, gold smuggling and corruption in government tenders. Erdogan said in a Dec. 27 televised speech that it was an attempt to derail the government. Earlier that day, a top judicial body blocked his order requiring the government to be notified of investigations, a ruling he called unconstitutional.
"What started as a local power struggle within the ruling religious political elite would appear to have become an issue broad enough to not only destabilize Turkey's financial markets but potentially spill over into the wider arena of emerging market fixed-income and currency markets," Michael Shaoul, chief executive officer of Marketfield Asset Management LLC, wrote in a note to clients on Dec. 27.
Share Gains
Until this year, Turkey, the Middle East's only member of the North Atlantic Treaty Organization, was an investor favorite as Erdogan fought off pressure from secularist generals, reined in government spending and sold state-owned companies.
The benchmark stock index jumped 505 percent in dollar terms between March 2003, when Erdogan took office, and the end of 2012, compared with the 275 percent gain in the MSCI Emerging Market Index. Dollar-denominated bonds returned 207 percent, outpacing the 173 percent increase in JPMorgan Chase & Co.'s EMBIG Diversified index for emerging markets.
Investors started to pull back in May when the Federal Reserve signaled it was preparing to withdraw the U.S. monetary stimulus that had helped fuel demand for developing-nation assets over the past five years. That month, anti-government protests over a planned development in Istanbul spread across the country in the worst unrest during Erdogan's reign.
"The underlying issue is that Erdogan is becoming more authoritarian and less focused on the institutions in Turkey," Das said. "That's ultimately got to be a bad thing."
Current Account
The probe is compounding the challenges Erdogan faces before elections next year because the country relies on foreign investment to finance the current-account gap, the largest in the Middle East. The deficit will widen to 7.1 percent of gross domestic product this year from 6.1 percent last year, according to government projections.
"When you're thinking about these stories like Turkey in the coming year, the consensus right now is extremely bearish," Robert Abad, who helps oversee $53 billion including Turkish dollar bonds at Western Asset Management Co., said in a telephone interview from Pasadena, California, on Dec. 27.
Getting 'Worse'
To prop up the lira, the central bank said Dec. 24 it will sell at least $6 billion in auctions through the end of January and make it more costly for lenders to park foreign currencies in the bank's coffers. It sold $450 million on Dec. 27 after receiving bids for almost double that amount. The bank sold $600 million today, the most since July 10.
Such efforts may not be enough to stem the selloff, according to Walter Todd, who oversees about $950 million as chief investment officer of Greenwood Capital Associates LLC.
"Anytime there's instability in an emerging market like that, it's never a good thing," Todd said in a telephone interview from Greenwood, South Carolina. "It'll probably get worse before there's some type of turnaround resolution to any of this."
Before it's here, it's on the Bloomberg Terminal.
LEARN MORE