pursuits
Why Retailers May Cash In on the Duck Dynasty Flap
By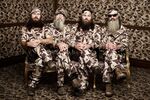 A handful of the biggest U.S. retailers have decided that the public relations risk of staying plugged into the Duck Dynasy product pipeline is worth the reward: steady sales of an already popular brand riding a surge of public support.
Days after Phil Robertson, the patriarch of the featured family, unleashed a stream of controversial comments about gay people and African Americans in an interview with GQ magazine, Target's Web store is still stocked with DVDs and books tied to the popular TV show.
Meanwhile, Wal-Mart Stores has a wider array of Duck Dynasy merchandise, including pink-camouflage linens and a child-size all-terrain vehicle.
Cracker Barrel Old Country Store quickly backtracked on a decision to yank Duck Dynasy merchandise from its restaurants, after a social media outcry.
"Our intent was to avoid offending, but that's just what we've done," the company posted on its Facebook page Dec. 22. " … You flat out told us we were wrong. We listened."
Meanwhile, a Carnival cruise ship featuring the Duck Commander gang will set sale July 17. Premier Christian Cruises, which chartered the vessel, said on its website that the voyage is sold out and berths are no longer available.
A&E placed Robertson on an "indefinite" suspension after his remarks were made public, but that doesn't mean the network is cutting ties to the profitable series. Citing "a source close to the situation," Entertainment Weekly reported that A&E is planning to air new Duck Dynasy episodes on Jan. 15 featuring the polarizing patriarch. (The episodes were reportedly shot prior to the controversy.)
Robertson's comments put a wide swath of Corporate America in a PR pinch. Whether or not companies stuck by the brand, they have faced a backlash—with civil rights groups on one side and conservative Christians and freedom-of-speech advocates on the other.
The latter crowd, however, has been much more "mobilized and amplified," according to Eric Schiffer, founder of Reputation Management Consultants, an Irvine (Calif.) company that helps corporations, celebrities, and politicians burnish their brands. Schiffer says public sentiment on search and social networks is four to one in favor of the Duck Dynasty clan—rallying under the tagline "Don't duck—stand with Phil."
"What he said was offensive, but he believes these things," Schiffer says. "And there's a huge base of people who identify with him."
Schiffer says savvy companies will not only stick with Duck Dynasy merchandise; they will also subtly publicize that they are doing so. The Robertsons, he says, "are bigger than ever at the moment. Now it's just a sprint to monetize."
Indeed, the Robertson family Christmas album (featuring Alison Krauss and George Strait) was No. 4 on sales charts last week—behind Beyoncé, Garth Brooks, and One Direction.
Wal-Mart declined to answer questions for this article. Target did not return requests for comment today.
Before it's here, it's on the Bloomberg Terminal.
LEARN MORE