Turkey's Erdoğan Will Probably Hang in There. The Economy May Not
By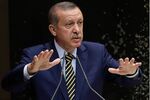 Prime Minister Recep Tayyip Erdoğan may soon be forced to call early elections, as Turkey's currency and stock market are tanking and foreign investors are unloading its sovereign debt in the wake of a widening corruption scandal.
And guess who'd be in charge after those elections? Erdoğan, almost certainly.
Despite the scandal, as well as massive antigovernment street demonstrations earlier this year, Erdoğan's AKP party would easily win a majority, says Wolfgango Piccoli, an analyst with Teneo Intelligence in London. "The reality is, the opposition remains utterly hopeless."
Turkey is scheduled to hold local elections in March, followed by presidential elections later in 2014. Erdoğan's original plan was to wait until after the presidential vote before calling parliamentary elections. The crisis may force him to move up the timetable, says Timothy Ash, head of emerging-markets research at Standard Bank in London. "The danger is that this [scandal] drags on and doesn't get resolved. The best case is to draw a line now and call elections."
While Erdoğan looks set to survive the crisis, Turkey's reputation as a stable, well-managed economy may not. Even before the corruption scandal began, the lira had been weakening as a result of the country's increasing current-account deficit. Now that deficit is growing even larger as risk-averse foreign investors sell off Turkish debt at the fastest pace in two years.
Adding to the unease, Erdoğan and his allies have suggested they might be victims of a foreign plot by the U.S., which until now has enjoyed good relations with Turkey. The U.S. Department of State has called the allegations "disturbing."
The situation "significantly undermines the facade of economic competence that the administration has so carefully constructed in recent years," Michael Shaoul, chief executive officer of Marketfield Asset Management in New York, told Bloomberg News.
Over the past decade, Turkey's gross domestic product more than tripled, and its dollar bonds returned an average 9.7 percent annually. Those days are clearly over. The lira will remain under pressure, Ash says, and though Turkey's central banker says he wants to hold the line on interest rates, an interest rate hike will likely happen soon.
Even if Erdoğan's AKP wins parliamentary elections, "it will be sort of a half-victory," Piccoli says. "People will start speculating if it's the beginning of a decline."
Before it's here, it's on the Bloomberg Terminal.
LEARN MORE