pursuits
Regional Variations of the Urge to Splurge in China
Christina Larson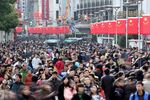 It's no simple task to design advertising campaigns meant to appeal to 1.3 billion people living in diverse circumstances across China. A new study (PDF) by consumer researcher GroupM in Shanghai maps the geography of China's luxury and high-end consumers, teasing out regional variations of the urge to splurge.
Broadly speaking, shoppers in China's less developed central and southwestern regions tend to be more pragmatic and price-conscious, even those with extra cash to spend on luxury goods. Meanwhile, those in northern and eastern China, who often have longer exposure to brands, are more sensitive to what the study calls "emotional influences," including brand loyalty, product packaging, and advertising campaigns.
The mystique of foreign brands is dwindling in China's most developed cities but remains strong in "Tier 3 prefecture-level cities," such as Foshan in Guangdong province and Wuhu in Anhui province. In such cities, the top reason given for selecting skin-care products was that it was an "international brand," whereas consumers in Beijing and Shanghai said the most important factor in selecting beauty products was that it "makes me more confident."
Overall, it's been a tough year for luxury brands in China, as the government's ongoing crackdown on graft and officials' culture of conspicuous consumption has put a dent in sales of luxury watches and other items commonly given as gifts. According to consulting firm Bain, luxury spending in mainland China advanced just 2 percent in 2013, compared with 7 percent in 2012. Not all product categories fared the same. While sales of luxury watches plummeted 11 percent in a year, sales of women's apparel and cosmetics both rose 10 percent.
Luxury shoppers in China are savvier than they once were, with 73 percent searching for information about products before making purchases, according to Bain's research. "Brands have to master a broader set of management skills to succeed in China now," Bruno Lannes, a Bain partner in Greater China, said in a statement. "There are new imperatives coming from the increased sophistication of Chinese shoppers."
Before it's here, it's on the Bloomberg Terminal.
LEARN MORE