Israel Pushes for Settlements as Kerry Seeks Peace Deal
Calev Ben-David and David Lerman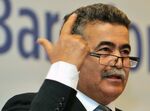 The Israeli government's pursuit of new settlement construction is a surmountable obstacle for the Obama administration as it tries to broker a peace deal between Israel and the Palestinians, according to U.S. analysts of the Middle East.
U.S. Secretary of State John Kerry "should keep his powder dry" in reacting to the settlements, said Aaron David Miller, a vice president at the Woodrow Wilson International Center for Scholars in Washington.
Announcements of new settlements are one of the "realities" of the peace process and almost unavoidable, said Miller, who served as a top adviser to both Republican and Democratic secretaries of state for two decades. "Every Israeli prime minister, from the most dovish to the most hawkish, all engaged in it," he said.
The settlements issue wasn't the only foreign-policy headache that confronted the Obama administration over the Christmas holiday.
Even as the U.S. seeks to calm tensions between China and its neighbors, Japan frustrated that effort when Prime Minister Shinzo Abe visited a shrine memorializing veterans that include World War II criminals.
The U.S., in a statement issued by its embassy in Tokyo, said it is "disappointed that Japan's leadership has taken an action that will exacerbate tensions with Japan's neighbors."
While the political damage from the shrine visit may be limited, fallout from the Israeli settlements could upset ongoing peace talks, at least temporarily.
'Running Room'
"It will damage prospects for moving negotiations forward, especially with a very weak Palestinian Authority, and leaves the administration with constricted running room," said Charles Dunne, director of Middle East and North Africa programs at Freedom House.
Israel is "approving more settlement tenders because they want to find excuses not to continue the negotiations," Omar al-Ghoul, an adviser to Palestinian President Mahmoud Abbas, said yesterday in a phone interview. The U.S. "should tell the Israelis enough is enough," he said.
State Department spokeswoman Jen Psaki yesterday declined to comment on Israel's decision.
The plan to issue bids to build on land Palestinians claim for a future state adds pressure on peace talks already strained by escalating violence between the sides. The Israeli military said it carried out airstrikes on two targets in the Gaza Strip yesterday in response to a pair of rocket attacks, the Associated Press reported.
Prisoner Releases
A government official, who asked for anonymity to talk about pending action, said he expects Israeli Prime Minister Benjamin Netanyahu to approve moving ahead with the bids.
The government also timed construction announcements in tandem with two earlier rounds of prisoner releases, to blunt public opposition to freeing Palestinians involved in attacks on Israelis. The official, who wasn't authorized to give his name, said the latest construction push didn't violate the guidelines of the U.S.-brokered peace negotiations.
Israel agreed to free 104 Palestinian prisoners in four rounds, paving the way for the renewal of talks last July. The third round is scheduled to take place next week.
The linking of a settlement push with a prisoner release wasn't accidental, said David Schenker, a former Pentagon policy aide on Arab politics who is now at the Washington Institute for Near East Policy.
'Give Away'
"The timing of the announcement is an unfortunate, but predictable consequence of the ongoing balancing act of the Israeli government," Schenker said by e-mail. "Prisoner release -- of Palestinians, many with blood on their hands -- is extremely controversial and politically difficult for the government of Israel."
Netanyahu is pushing ahead with settlements to show Palestinians that "he's not in the give-away business" as he releases prisoners, Miller said.
"There was no commitment to stop construction," Israeli Environment Minister Amir Peretz told Army Radio yesterday. Even so, settlement building violates the spirit of the talks and jeopardizes Israel's international relationships, Peretz said.
"We have to understand there's a need to maintain the framework of our relationships with Europe, our special relationship with the U.S.," said Peretz, whose Hatenuah party is the strongest supporter of peace talks in Netanyahu's ruling coalition. Its chairwoman, Justice Minister Tzipi Livni, is Israel's chief negotiator.
Before it's here, it's on the Bloomberg Terminal.
LEARN MORE