Rakuten Eagles Make Pitcher Tanaka Available to Major Leagues
Yuko Takeo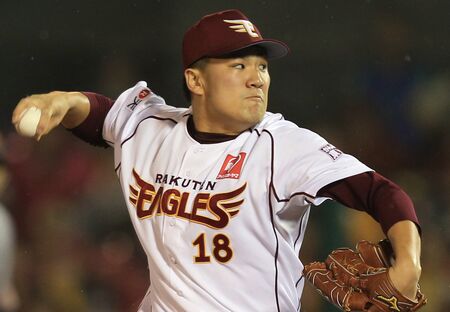 The Tohoku Rakuten Golden Eagles, winners of the Japan Series, made their star pitcher available to Major League Baseball teams, according to a statement.
Masahiro Tanaka, the 25-year-old who posted a 24-0 regular-season record and a 1.27 earned-run average while leading his team to its first championship, had requested to be posted so he can play in the U.S.
Nippon Professional Baseball and MLB agreed to new terms earlier this month that cap the amount U.S. teams pay for the right to negotiate with Japanese players. MLB organizations can't pay more than $20 million to Japanese teams for the right to negotiate with players under the new system.
A player's salary is paid on top of the negotiating, or posting, fee. Under the previous agreement between NPB and MLB there was no limit to the fees paid to Japanese teams.
About two years ago, the Texas Rangers paid $51.7 million for the right to negotiate with Nippon Ham Fighters pitcher Yu Darvish. The Rangers paid an additional $60 million for Darvish's contract, the Los Angeles Times reported Dec. 5 without saying where it got the information.
The Boston Red Sox paid a posting fee of $51.1 million to the Seibu Lions for Daisuke Matsuzaka in 2006, according to the Boston Globe.
Billionaire Hiroshi Mikitani is chairman of Rakuten Inc., the operator of Japan's largest Internet shopping mall.
Before it's here, it's on the Bloomberg Terminal.
LEARN MORE