You Are Not the Decision-Maker on Sentence Correction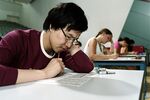 This tip for improving your GMAT score was provided by David Newland at Veritas Prep.

The Winter Olympics are coming in February, and that means judges will be making difficult decisions in choosing the winners. The good news on sentence correction is that you are not like an Olympic judge; you do not have to choose the winner. The correct answer has already been chosen by the test makers; you just have to recognize it.