Year in Review: 18 Existential Crises of 2013
By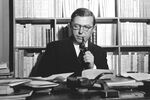 Media jawboner Michael Wolff took to Twitter earlier this month to promote his latest column: "The Time, Inc. existential challenge," he wrote. "Who will rise to it?"
Wolff's suggestion that Time Inc. is in the midst of an existential crisis puts the magazine publisher in good company. A quick look back at the news of the past year reveals that the contemporary business world is rife with existential misgivings. Everywhere you look, malaise is afoot. You could call 2013 the year of the selfie. Or you could call it the year of Jean-Paul Sartre. Perhaps the two are related.
Who else is said to have suffered from existential uncertainties in 2013? Herein, a partial accounting:
BlackBerry: "In short, a revolution in corporate culture needs to take root. And it needs to happen in the midst of an existential crisis and massive job cuts that will demoralize the work force. The once trailblazing BlackBerry has to play catch-up again."
—"For a Start, BlackBerry Needs a Cultural Revolution," Globe and Mail
Football: "Recently, President Obama admitted he'd have to think hard about whether he'd let a son play football, amidst growing concerns about the safety of the sport."—"Football's Existential Crisis," MediaPost
(See also: "Why Clowney's Ribs Are An Existential Crisis For College Football," Deadspin.com)
MBAs: "I sat on the floor, contemplating the turn of events that suddenly struck me as bizarre. … 'What have I done?'"
—"The MBA and the Existential Dilemma" (paywall), Financial Times
The New York Times Magazine: "I took a close look … at the existential dilemma of The New York Times Magazine and the search for its next editor-in-chief."
—The Times Magazine Problem, Capital New York
The World Trade Organization: "The epitaph for the World Trade Organisation has been penned many times in recent years but it is not exaggerating to say that the Geneva-based institution now faces an existential crisis."
—"WTO Faces Existential Crisis," Guardian
Digital Cameras: "As more users opt for smartphones, companies wonder what's next."
—"The Point-and-Shoot Camera Faces Its Existential Moment," Wall Street Journal
The Republican Party: "Phew! America has stopped banging its head against the debt ceiling. … But it's the poor Republicans who face a more urgent existential crisis."
—"Debt Emergency Over—Now for the Republican Party's Existential Crisis," Spectator
A lady neutering her dog: "By the time this post is published, Monja will be sitting in his new vet's office, waiting for his balls to be chopped off."
—"Why Neutering My Dog Is Making Me Have An Existential Crisis," Nectar Collective
Runners: "Why do we get up each day and run, day after day after day? What drives us?"
—"The Existential Crisis of Runners," Wild Defined
U.S. Labor Unions: "For decades, the growth of technology and the global market has created an existential crisis for U.S. labor unions."
—"An Existential Crisis For U.S. Labor Unions," NPR (New York Times excerpt)
IBM: "I believe IBM is facing an existential crisis the likes of which it hasn't seen in over 20 years. And I don't think IBM management even knows it."
—"IBM's Existential Crisis," the Street
Digital Ad Agencies: "The term 'digital' worries me. This is not because I'm a [Luddite] (indeed, I still bear the scars of a stint as the managing editor of a dotcom start-up). No, it's because I'm not sure what the word really means any more."
—"The Modern Digital Shop Faces an Existential Crisis," Campaign
Deron Williams: "The Deron Williams they have seems a little lost, a little broken, a little fatigued and not quite sure of himself. If this sounds like some sort of existential crisis, it is."
—"The Existential Crisis of Deron Williams," New York Times
Europe: "This is an existential challenge for Europe as we have known it."
—"Interview With George Pagoulatos," Euro Crisis in the Press, a London School of Economics blog
Janus Capital: "Janus Capital Group is an active investment manager that is facing an existential challenge."
—"Janus Capital's Existential Challenge: Poor Investment Performanance," Seeking Alpha
A person shopping for frozen foods: "My biggest existential crises always strike in the aisles of the grocery store. It seems like the perfect location for a silent mental meltdown."
—"An Existential Crisis in the Frozen-Foods Aisle," Daily Cardinal
California Pot Shops: "The California Supreme Court is scheduled to hear arguments Tuesday on whether local governments can ban retail pot dispensaries within their borders, a question that could lead to the medical marijuana industry's expansion or further contraction depending on the outcome."
—"California Pot Shops Face Next Existential Crisis," the Associated Press
 Santa Claus: "It's really not worth getting into it about the race of Santa Claus, who I am pretty sure can be whatever color you want him to be—because that's just how damn magical he is."
—"Santa's Existential Dilemma: To Be White, Black or a Penguin?" Los Angeles Times
Before it's here, it's on the Bloomberg Terminal.
LEARN MORE