The Impending Bollywood Boom at the U.S. Box Office
by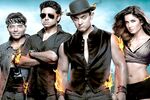 Last weekend, the Indian action sequel Dhoom 3 set a new North American box office record for a Bollywood film, taking in $3.3 million from 236 theaters. The previous record, set last August by Chennai Express, with $2.2 million, was expected to fall: Dhoom 3 opened in more U.S. theaters than any prior Bollywood film and also benefited from an IMAX surcharge. (It's the first Indian film shot in the large-screen format.) The movie's success speaks to the remarkable rise of Bollywood films in the U.S. in recent years, and it offers some hints for their future here.
India has long had one of the world's most prolific film industries—producing roughly twice as many films as American studios for decades. More people watch them, too: In 2009, around 3.6 billion tickets were sold for Bollywood films around the world, compared with 2.6 billion admissions for American films. Indian movies make a lot less money than American ones, but they are cheaper to make; the most expensive cost around $20 million, vs. upwards of $200 million in Hollywood. And just like American films, Bollywood's revenues increasingly come from abroad—as much as 60 percent to 65 percent.
Much of this shift can be attributed to outreach in growing ethnic communities in the U.S., the U.K., and elsewhere. "Indians and South Asians are among the most movie-obsessed groups in the U.S.," says Gitesh Pandya, editor of the site BoxOfficeGuru.com and a media consultant hired by many Bollywood companies in the U.S. "Going out to the movies, especially as a family, is part of the culture."
A decade or so ago, this community activity was served by small theaters owned by Indian entrepreneurs scattered across the country. In 2007 and 2008, Big Cinemas, an Indian movie theater chain owned by Reliance Communications—a vast media conglomerate operating out of Mumbai—acquired more than 200 screens across the U.S., in many cases renovating old, rundown picture palaces. The idea was to target cities with sizable South Asian populations, such as Edison, N.J., and San Jose. Theaters were updated with new sound and projection systems, concession stands began serving Indian snacks, and, in some cases, bars and restaurants were installed.
While companies such as Big Cinemas have helped fuel the steady drumbeat of Bollywood releases in the U.S., bigger North American chains have recently begun to enter the market. "Today, some of the highest grossing theaters for Bollywood are mainstream U.S. exhibitor chains," says Pandya, pointing to multiplexes like the Regal Cantera in Warrenville, Ill., or the AMC Empire in Manhattan.
"Five years ago, the biggest Indian film might have played in about 80 theaters in North America. Now it's playing in more than 200." They're circulating far less expensively than an American release might. "The ad budgets on Bollywood films are a tiny fraction of what even American specialty, independent films have. They're very targeted. You won't see a big ad in the New York Times, but you will see TV spots on ethnic TV channels."
Will these movies strike gold with non-Indian audiences? Over the years, Bollywood films have become more Westernized, with bigger budgets, higher production values, and more international-audience friendly story lines. Many are now shot in the U.S., occasionally utilizing English-language dialogue. (Dhoom 3 was largely filmed in Chicago.)
"When you compare a mainstream Masala film from the 1970s with now, it's wildly different," says Danny Bowes, a film critic who covers the Bollywood beat for RogerEbert.com. "The music is getting more like Western pop, and you're seeing all kinds of cultural signifiers"—big, stunt-heavy action sequences and special effects—"that would be more appealing to Western audiences." This bodes well for crossover potential. Until then, Bollywood will reap the rewards of a growing and increasingly affluent diaspora.
Before it's here, it's on the Bloomberg Terminal.
LEARN MORE