Some London Police to Strike on New Year's Eve Over Pay Raise
Jeremy Hodges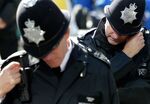 Some London police officers are planning to strike on New Year's Eve because they are getting a pay raise of only 1 percent, the Metropolitan Police Service said.
The Public and Commercial Services Union, a U.K. trade union representing government workers, told London police that 1,150 people, or one in 12 police employees, voted in favor of striking. The union wants a pay increase of as much as 6 percent, police said in an e-mailed statement today.
The Met said it stopped granting requests for leave to its officers and had to cancel some planned days off in order to be fully staffed on New Year's Eve because of the strike.
"These are clearly all steps we'd rather not take, but we have to be prepared to maintain critical operational areas in the event of a strike action by police staff, and we are confident that we have appropriate plans in place," the force said.
The union's members are "angry about their pay" and "fear for their futures" at the Met, the group said in a statement on its website today.
"The Met Police is not short of money, it does not need to force pay cuts on low-paid staff who help to keep London safe," the union's general secretary, Mark Serwotka, said in the statement.
Before it's here, it's on the Bloomberg Terminal.
LEARN MORE