Mince Pies by Aldi Festive Treat as Discounters Trade Up
Gabi Thesing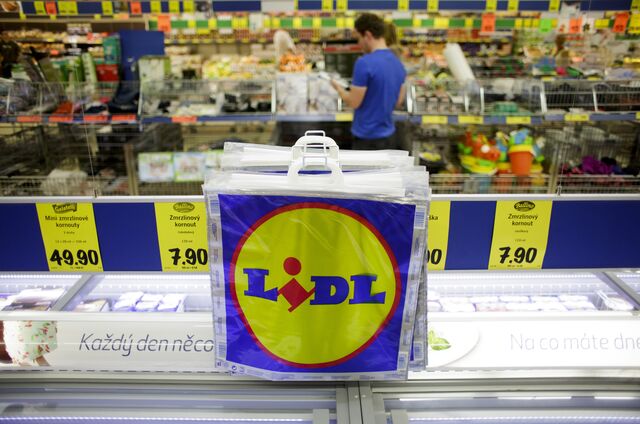 Michaela Angle has a taste for refined things. The London estate agent drives a silver BMW and is planning a Christmas dinner full of luxury fare. This year, however, she's buying more than ever at Lidl, the German grocer better known for cut-throat pricing than holiday treats.
"The quality is just so good," Angle said of the chain, whose mince pies, a British holiday favorite, were voted second only to fellow German budget outlet Aldi in a tasting contest organized by U.K. consumer group Which? She used to shop at the more upscale J Sainsbury Plc until a friend turned her on to Lidl's balsamic vinegar, Italian Panettone and prosecco.
A Christmas dinner bought from Aldi or Lidl is the latest challenge to Britain's big four supermarkets, which have all lost share to the discounters this year. After years of focusing primarily on keeping prices about 20 percent lower, the closely held German grocers are using a newfound following of devoted shoppers, lured in by five years of a stuttering economy, to show that their finest food is as good as any other.
Aldi and Lidl, known as hard discounters in industry parlance, have climbed to prominence in Germany and other continental countries by offering a limited selection of private-label goods in a smaller shop than more traditional grocers. To become an upscale food destination of choice for affluent Londoners, they've had to overcome stereotypes of being dark outlets where only low-income people would shop.
'Old Stigmas'
"Aldi and Lidl have materially broadened their appeal," said Clive Black, a food retail analyst at Shore Capital in Liverpool, England. "Old stigmas that may have existed towards hard discounters have been blown away."
Lidl is seizing the momentum by running television commercials for the first time, which have brought in 20 percent more shoppers since Oct. 31. Once there, they can spend 1.79 pounds ($2.93) for a pack of mince pies, which beat out a pricier offering from luxury purveyor Fortnum & Mason in the Which? survey, or grab a whole cooked lobster for 4.99 pounds. The crustacean costs 23 pounds at Marks & Spencer.
While the discounters control relatively small portions of the U.K., their impact is growing and hitting rivals, including leader Tesco Plc, which has lost about 1 percentage point in market share in the past year. For the first time, more than half of British households shopped in either an Aldi or a Lidl store in the past year, researcher Kantar Worldpanel said Dec. 17. While the majors wind down real-estate expansion to focus on their online offers, Aldi and Lidl are opening more shops closer to customers.
'More Mainstream'
"This year in particular, the discounters really became more mainstream," said David Gray, an analyst at researcher Planet Retail. "The main picture is they are going after more affluent customers because there's more money in that."
That's hitting the stocks of the biggest grocers, whose sales have stumbled because of the competition. Tesco rose 0.2 percent this year in London trading, while William Morrison Supermarkets Plc climbed 0.3 percent and Sainsbury advanced 7.7 percent, all trailing the 14 percent gain of the FTSE 100 Index.
Tesco Chief Executive Officer Philip Clarke told journalists on Dec. 4 he will fight the discounters by offering more options to shop online and at click-and-collect outlets. The grocer also revamped its premium range and last week lured shoppers in with a promise of doubling the value of coupons to spend on items from wine to tablets. A Tesco spokeswoman declined to comment further on their holiday plans.
For an Aldi or Lidl, "This Christmas, the big question will be whether or not people trust it with the core part of their offer," said Andrew Gwynn, an analyst at Exane BNP Paribas in London. "It's all very well buying some Christmas cake or nuts, but would you trust it with the turkey? If you do, that signals a real step change in perception."
Deluxe Range
Indeed, the discounters haven't yet convinced shoppers like Carol Smith.
"I buy vegetables and tinned goods from Aldi and Lidl -- things that are more or less the same anywhere, but for quality I'd come to Marks & Spencer," said Smith, a nurse of almost 70, as she shopped at the M&S store on London's Moorgate. "I've already bought my turkey from Marks & Spencer."
Still, others are making the switch. Lidl's Deluxe range, introduced four years ago, has been instrumental in drawing in middle- and upper-class customers, with higher levels of disposable income, said a spokeswoman for the retailer. About a quarter of the chain's British customer base falls into that socio-economic bracket, she said. Aldi declined to comment on their strategy.
"I now go to Lidl first and go somewhere else if I can't find what I want," said self-confessed "fussy" eater Juliette Odey as she chained up her bike outside the Tooting Broadway store in south London. "The cheese is so good and so cheap."
Before it's here, it's on the Bloomberg Terminal.
LEARN MORE