Metals Seen Rallying With Crops After Record Tumble: Commodities
Maria Kolesnikova, Nicholas Larkin and Luzi Ann Javier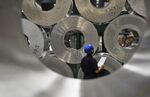 Metal and crop prices are poised to rebound in 2014 as accelerating economic growth boosts demand, helping to staunch this year's record retreat for investments in commodity-focused funds.
Average annual prices for 15 of 23 non-energy commodities from aluminum to sugar will be higher than now, according to estimates from as many as 26 analysts compiled by Bloomberg. Corn may rise as much as 20 percent, platinum 23 percent and nickel 19 percent, based on the median of trader and investor forecasts in a survey that asked as many as 59 respondents to predict next year's peak price for each of 15 raw materials.
Corn, silver and gold dropped the most in 2013, and five more raw materials tumbled into bear markets as output rose and investors shifted to equities. Commodity-fund investments fell by a record $88 billion to $332 billion in the first 11 months, almost all of it in metals and agriculture, Barclays Plc says. While Goldman Sachs Group Inc. says supplies are mostly ample and Bank of America Corp. expects more losses, global manufacturing is the strongest since April 2011 and the International Monetary Fund says world growth will quicken.
"It's a good time to come into commodities," said James Paulsen, the Minneapolis-based chief investment strategist at Wells Capital Management, which oversees about $340 billion of assets. "This is the first time in the recovery that we've had simultaneous positive and accelerating growth in the U.S., Europe, Japan and the emerging world all at the same time. That's a pretty big demand change. But until people kind of pick up on the fact that commodities can come back, you'll still see some people sticking a little more to stocks."
Commodity Slump
The Standard & Poor's GSCI Spot Index of 24 commodities fell 1.5 percent this year, the first drop since the global recession in 2008. Corn declined 38 percent, poised for its worst year in at least a half century, and silver's 36 percent rout puts it on track for the biggest loss in more than three decades. Gold, down 28 percent, is heading for its first annual slide since 2000 and was the biggest contributor to the contraction in commodity investments in 2013.
Investors added $8.76 trillion to the value of global equity markets, taking valuations to the highest since 2007 and driving the S&P 500 to a record, according to data compiled by Bloomberg. The MSCI All-Country World Index of equities rose 19 percent this year, and the Bloomberg Treasury Bond Index lost 3 percent.
Slower Growth
The global economy will expand 3.6 percent next year, from 2.9 percent in 2013, the Washington-based IMF said in a report in October. China, the biggest consumer of everything from soybeans to copper to cotton, will grow 7.5 percent, according to the median of 53 economist estimates compiled by Bloomberg. While that will be a fourth year of slower growth, the pace is still almost three times that of the U.S.
The global manufacturing purchasing managers index tracked by JPMorgan Chase & Co. and Markit Economics rose in November for a fifth consecutive month, data showed Dec. 2. That same day, the Institute for Supply Management reported U.S. manufacturing accelerated at the fastest pace in more than two years, while export orders reached a 21-month high.
Economic growth may not be enough to end the slump. There will be "significant" declines through next year for iron ore, gold, soybeans and copper, Jeffrey Currie, Goldman's head of commodities research in New York, said in a Nov. 20 report. Currie said Oct. 8 that gold, headed for its biggest drop since 1981, was a "slam dunk" sell for 2014 as an improving U.S. economy reduces the need for the metal as a store of value.
After a decade in which the S&P GSCI Spot Index more than doubled, reaching a record in 2008 as producers failed to keep up with demand, that "super cycle" of gains has ended because supply has caught up, Citigroup Inc. said 13 months ago.
Exiting Funds
This year's price slumps were a surprise. In December 2012, analysts and traders who were asked to predict the highest prices in 2013 said precious metals would be the biggest winners, with gains of as much as 25 percent, compared with 18 percent for grains and 16 percent for industrial metals.
Investors are dumping commodity funds for the first time since 2000, with net withdrawals of $37.37 billion this year through Dec. 12, according to EPFR Global, which tracks fund flows. Exchange-traded products linked to gold saw their holdings shrink by 33 percent, heading for the first annual drop since the securities were created a decade ago and erasing $73 billion of value, data compiled by Bloomberg show.
Goldman Analysts
Gold, soybeans, copper and iron ore will drop at least 15 percent next year because of rising supply, Goldman analysts said in a November report. The bank said Dec. 5 that gold will slide to $1,110 an ounce in 12 months, compared with today's close in New York of $1,203.30. Prices are down 37 percent from a record $1,923.70 in September 2011.
Gold-mining companies, including Barrick Gold Corp., already have taken at least $26 billion of asset writedowns this year as prices plunged, and billionaires John Paulson and George Soros cut their holdings of the precious metal.
Goldman said in October that commodities will fall 0.7 percent in 12 months. A month later, Bank of America predicted a 4.6 percent loss. While 14 of 24 commodities in the S&P GSCI fell in 2013, including nine by double digits, the overall drop was limited because energy is about 70 percent of the weighting. Crude oil rose 8.1 percent, and natural gas advanced 32 percent.
Hedge funds and other large speculators still are betting on a rally. Money managers expanded their net-long holdings of futures and options across 18 U.S.-traded commodities for a fourth consecutive week through Dec. 17, with the most contracts held since the end of October, U.S. Commodity Futures Trade Commission data show.
Rising Exports
The grain slump is showing signs of boosting demand for crops in the U.S., the largest agricultural exporter, and the prospect of dry weather next year may mean reduced output. Corn export sales as of Dec. 12 for delivery before Aug. 31 were more than double a year earlier, while wheat sales since June 1 jumped 34 percent, U.S. Department of Agriculture data show. Chicago corn futures will jump as high as $5.225 a bushel next year and wheat may peak at $7.20 a bushel, based on the median of at least 49 estimates in the Bloomberg survey.
Palladium will advance as much as 22 percent to $850 an ounce, and platinum will rally to $1,650 an ounce from today's $1,336.60 as demand tops production, the median of 30 estimates shows. Output trailed demand since 2012 and deficits will continue next year as mine strikes reduce platinum supply from South Africa and government inventories of palladium decline in Russia, Johnson Matthey Plc estimates.
Production Deficit
Cocoa use will exceed output by about 70,000 metric tons in the 12 months that began Oct. 1, and deficits will persist through 2018, a six-year stretch that would be the longest since the data began in 1960, the International Cocoa Organization in London estimates. Prices will rally as much as 13 percent to $3,200 a ton next year, according to the median of 17 estimates.
Sugar prices that fell 17 percent this year and touched a 41-month low of 15.86 cents a pound on Dec. 18 are below the cost of production in countries including India, the largest grower after Brazil, and Thailand, squeezing mills and hurting prospects for next year's crop, said Michael McDougall, the head of the Brazil desk at Newedge USA LLC. Prices may rise 23 percent to 20 cents, based on the median of 25 estimates.
Silver, after posting the biggest loss of any precious metal, will rise as much as 28 percent in 2014 to $25 an ounce on spot markets, according to the median of 40 estimates. That would still be 23 percent below this year's high. Gold for immediate delivery will gain 20 percent to $1,450, based on 59 estimates, or 15 percent below the 2013 high.
Industrial Metals
Nickel will rise as much as 19 percent to $16,875 a ton, the median of 22 estimates show. Indonesia, the biggest producer of mined metal, plans to ban raw-mineral exports. Barclays recommended this month that investors buy nickel.
Aluminum will increase 17 percent to $2,050 a ton, zinc will rise 6 percent to $2,200 a ton, and copper will advance 7.6 percent to $7,836 a ton, the survey shows. Copper output will exceed demand by 127,000 tons next year, against a shortage of 79,000 tons this year, according to Barclays. It forecast shortages for aluminum and lead in 2014, while surpluses shrink for nickel and zinc.
Lower prices this year already forced mining companies to rein in expansion plans and cut costs. Vale SA, the biggest iron-ore producer, reduced this month its investment budget for next year to the lowest since 2010. Rio Tinto Group plans to cut capital spending by more than half by 2015 from last year's estimate.
Mining Earnings
London-based Rio Tinto will report a 47 percent jump in net profit to $10.8 billion in 2014, the mean of 19 estimates compiled by Bloomberg shows. Its shares, which dropped 5.3 percent this year, will gain 14 percent in the next 12 months, the average of 24 estimates show.
Glencore Xstrata Plc, the world's biggest listed commodities trader, will report profit of $5.245 billion next year, the mean of 10 estimates show. The shares will jump 19 percent after slumping 12 percent this year.
"Growth of demand for most commodities is going to be above the trend" of the past several years, said Kevin Norrish, an analyst at Barclays in London. "China's force as the big driver of commodity demand maybe is stabilizing, but it's not going away, and it's going to continue to drive the bulk of commodity demand for at least the next 10 years."
Before it's here, it's on the Bloomberg Terminal.
LEARN MORE