47 Ronin and the Keanu Career Curve
by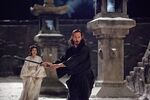 Bro no!
47 Ronin, the Keanu Reeves martial arts movie that opens on Christmas, is not an excellent adventure. Despite some sharp special effects and surreal monsters, the Universal film already flopped in Japan—about as welcoming a venue as possible for samurai fare. In North America, analysts expect it to garner less than $50 million in ticket sales over its box office run. On an inflation-adjusted basis, Keanu was commanding more than that almost 25 years ago: The refined Bill & Ted's Excellent Adventure grossed about $76 million; the restrained Point Break did $74 million.

As the chart shows, Keanu is a risky bet. For every Speed there's a Sweet November; for every Matrix, a Johnny Mnemonic. The smart money, meanwhile, is short on 47 Ronin, which has an 11 percent approval on Flixster's RottenTomatoes.
To be fair, Keanu is up against more than martial arts monsters. He's contending with The Wolf of Wall Street, a bunch of hobbits, and anchorman Ron Burgundy in one of the most crowded holiday film seasons on record.
Still, if Hollywood pundits are right, Keanu's career may be crashing for the third time. The bigger question is whether he can climb a fourth peak.
Before it's here, it's on the Bloomberg Terminal.
LEARN MORE