Pimco Sees Provinces Going from Worst to First
Ari Altstedter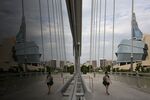 Bonds of Canada's 10 provinces, after underperforming federal and corporate debt this year, will beat both in 2014 as local governments slow issuance and shrink deficits, according to Pacific Investment Management Co.
Canadian provincial bonds have lost 1.9 percent this year, on track for the biggest annual loss since 1999, according to Bank of America Merrill Lynch data. Corporate debt has returned 1.1 percent this year while government debt has lost 1.9 percent.
"I would say provincials first, probably federals second and potentially corporate bonds third," said Ed Devlin, head of the Canadian portfolio at Newport Beach, California-based Pimco, the world's biggest manager of bond funds. "The fundamentals are slowly improving at the provinces and have been for a number of years, and I think they continue to march broadly forward."
Provinces accelerated borrowing schedules this year to beat a worldwide rise in interest rates triggered last week when the Federal Reserve announced plans to slow the monthly bond purchases its used to keep borrowing costs low. Provincial returns will benefit from provinces with less borrowing left to do just as a forecast pickup in the Canadian economy gives a lift to their deficit fighting, according to Devlin.
Provincial bond issuance will fall to C$75 billion ($70 billion) in 2014 from a record C$79.8 billion this year, according to Canadian Imperial Bank of Commerce.
"They've been wise to front load their funding," he said in a Dec. 20 telephone interview from London. "So they do have room, that's why we like them."
Funding Levels
Devlin said he holds more provincial debt than a comparable benchmark index. He's increased the provincial allocation in his Canadian Total Return Bond Fund to 49 percent from 40 percent in August.
Canadian provinces are 85 percent fully funded for the 2013-2014 fiscal year, which doesn't end until March, according to CIBC.
Manitoba, with the fourth most bonds outstanding, according to Desjardins Securities Inc., revised down its deficit projection for the current fiscal year by C$33 million to C$485 million in a fiscal update Dec. 20. The province reduced its borrowing requirement for the fiscal year to C$4.7 billion, from C$4.8 billion. The province said in its spring budget it will eliminate the deficit by the 2016-17 fiscal year.
Yield Spreads
Elsewhere in credit markets, Canada's ten year benchmark government bond was little changed, yielding 2.67 percent. The 1.5 percent security maturing in June 2023 cost C$90.30.
The extra yield investors demand to own the debt of investment-grade corporations rather than of the federal government held steady last week at 119 basis points, or 1.19 percentage points, according to the Bank of America Merrill Lynch Canada Corporate Index. Corporate spreads ended last year at 136 basis points.
Average yields in that index fell to 3.06 percent, from 3.07 percent on Dec. 13, and compared with 2.95 percent at the end of 2012.
Quebec completed its C$15.5 billion in borrowing requirements for the year Dec. 13 with the sale of C$4 billion of five- and 10-year debt, according to the province's finance ministry.
"They've been borrowing at an accelerated basis trying to get in front of that back up in interest rates," said Doug Bartlett, CIBC's head of government finance and infrastructure, in a Dec. 19 phone interview. "So we've probably borrowed some of that supply that would have come in '14, we've brought it to market in 2013."
CIBC's Bartlett said he expects Quebec to borrow less next year after a record this year, while Ontario borrowing will hold steady and other provinces will borrow less as they shrink their deficits and begin work on fewer capital projects.
'Getting Tighter'
Relative yields on provincial bonds narrowed to a more than two-year low of 64 basis points last week, from 66 on Dec. 13 and 76 basis points at the end of 2012, according to the Bank of America Merrill Lynch Canadian Provincial & Municipal Index. Yields fell to 2.97 percent Dec. 20, from 2.99 percent a week earlier and 2.55 percent at the end of last year.
"Provincial spreads are getting tighter, so they're not as attractive as they were, but I still think they're fundamentally a good source of high quality income in Canada," PIMCO's Devlin said. "Their budgets, depending on the province, some are a bit more aggressive than others, are broadly realistic."
Quebec Deficit
Proposals for new rules next year governing how banks must turn debt to equity in the event of a liquidity crisis will weigh on the broader corporate debt market, Devlin said.
"While growth will continue to vary widely, almost all provinces are expected to show improvement year over year," rating firm DBRS Ltd. wrote in a report today. "This should grant some much needed respite to provincial revenues."
Quebec abandoned the goal of eliminating its deficit in fiscal 2013-14 last month due to weaker-than-projected revenue growth and said it will need two more years to return to balance. The second biggest provincial issuer will post a deficit of C$2.5 billion in the year that ends March 31, the Finance Department said Nov. 28 in a statement on its website. The shortfall will shrink to C$1.75 billion next year before disappearing in the 2015-16 fiscal year.
Growth Forecasts
Ontario, with the largest total debt load last year according to Desjardins, is projecting an C$11.7 billion deficit in the current fiscal year and plans to eliminate it by the 2017-2018 fiscal year.
British Columbia, with the third largest number of bonds outstanding, projects a C$165 million budget surplus this fiscal year.
The Canadian economy is expected to grow by 2.3 percent next year from this year's 1.7 percent, according to the median estimate of a Bloomberg economist survey. Canada's gross domestic product grew for a fourth straight month in October with a 0.3 percent gain, Statistics Canada reported today. Analysts surveyed by Bloomberg forecast a 0.2 percent expansion, based on the median of 15 estimates.
"Next year, there's a little bit less issuance, but the real driver will be growth," said Pimco's Devlin. "If we can get north of 2 percent GDP, real GDP, growth next year, that's going to make the deficits looks pretty good."
Before it's here, it's on the Bloomberg Terminal.
LEARN MORE