Ecuador Defends Challenged Pollution Verdict Against Chevron
Paul M. Barrett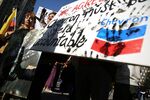 As the time for a ruling approaches in Chevron's closely watched court battle with plaintiffs' attorney Steven Donziger, another part of the oil company's campaign to fend off a multibillion-dollar pollution judgment in Ecuador is revving back up.
Today is the deadline for post-trial briefs in Chevron v. Donziger, a civil-racketeering lawsuit the company filed against the New York activist and lawyer who engineered a $19 billion contamination judgment in Ecuador in February 2011. In its counterattack in federal court in New York, Chevron accused Donziger and his clients—poor residents of the Amazonian rainforest—of obtaining their verdict by means of fabricated evidence, judicial coercion, and bribery. Donziger denies those charges and says Chevron is going after him to evade its liability in Ecuador. U.S. District Judge Lewis Kaplan is expected to issue a ruling in early 2014.
Both Chevron and Donziger have said that based on his pretrial rulings and comments from the bench, Kaplan appears likely to decide in the company's favor. Chevron has asked the judge for an order barring Donziger and his clients from benefiting from their allegedly corrupt victory in Ecuador. The top court in Ecuador recently upheld the verdict against Chevron while halving the damages to about $9.5 billion. Chevron, which doesn't have any assets in Ecuador, has vowed it will never pay a dime on the Ecuadorian judgment.
Meanwhile, on a parallel legal track, Chevron is trying to extinguish its pollution liability by seeking an international-arbitration ruling against the government of Ecuador. In that action, the San Ramon (Calif.) energy giant has alleged that under a bilateral investment treaty with the U.S., Ecuador had an obligation to protect the due-process rights of an American company doing business in the Andean country. (The company in question was actually Texaco, which Chevron acquired in 2001, eight years after the pollution litigation began.)
A panel of three arbitrators is scheduled to reconvene in Washington, D.C., in January to continue its years-long assessment of Chevron's treaty claims. Much of the evidence in the arbitration case mirrors what Chevron presented during the six-week civil-racketeering trial in New York in October and November. One difference is that the nation of Ecuador has deeper pockets than Donziger and his team, meaning that it has been able to afford the fees of a major American corporate law firm to mount its defense against Chevron. That firm, Winston & Strawn, has made voluminous filings in the arbitration case, seeking to defend the legitimacy of the February 2011 judgment against Chevron. The racketeering trial in New York might have been less one-sided if Winston & Strawn had been in Judge Kaplan's courtroom opposing Chevron's formidable law firm, Gibson, Dunn & Crutcher. Represented by a hastily assembled squad of plaintiffs' lawyers, some of them working as volunteers, Donziger frequently found himself overwhelmed and outflanked in the New York trial.
That's not to say that the outcome—Chevron's expected victory—would be any different if Gibson, Dunn had faced a more muscular opponent. While Winston & Strawn's filings in the arbitration case raise some interesting questions, Ecuador's lawyers have little fresh to say, on most topics, about the troubling evidence of crooked Ecuadorian judicial proceedings.
Two illustrations:
The Fajardo e-mails. In a 183-page Dec. 16 filing to the arbitration panel, Winston & Strawn did a better job than Donziger and his colleagues of attempting to poke holes in Chevron's theory that the Ecuadorian plaintiffs' legal team "ghostwrote" the February 2011 judgment issued in the name of a trial judge in Lago Agrio, Ecuador. Winston & Strawn points to e-mails sent in the weeks before the judgment's release in which Donziger's main Ecuadorian lawyer colleague, Pablo Fajardo, frets about how the Ecuadorian judge will react to Chevron arguments. "They want to influence the judge with their theory," Fajardo wrote on Jan. 8, 2011, 34 days before the release of the judgment. "It is a mistake on our part to have fallen asleep for so long." If the plaintiffs' team drafted the court judgment itself, Fajardo would have had no reason for anxiety in the runup to the issuance of the ruling, Winston & Strawn argued.
On the other hand, the Fajardo e-mails, while intriguing, are by no means conclusive evidence of anything, Randy Mastro, Chevron's lead trial lawyer, told me. Fajardo refused to appear in New York to testify in the racketeering trial, so he could not be cross-examined on his e-mails. Moreover, the Winston & Strawn arbitration brief has nothing significant to say about the New York testimony of Nicolas Zambrano, the former Ecuadorian judge who claimed to have written the February 2011 judgment but on the witness stand seemed strikingly unfamiliar with the ruling.
The Cabrera report. Winston & Strawn's attempt to deal with the Ecuadorian plaintiffs' admitted ghostwriting of a critical court-appointed expert's report on pollution damages helps illustrate why the Ecuadorian judicial process has drawn so much skepticism. The report in question was supposed to have been written by an "independent" Ecuadorian expert named Richard Cabrera. In fact, as he was forced to admit under oath, Donziger organized the drafting of Cabrera's report by American technical experts Donziger himself had hired. The best Winston & Strawn could muster was such convoluted legalese as: "Mr. Cabrera's alleged complicity in wrongful conduct does not make it more likely that Judge Zambrano acted unlawfully." And: "Mr. Cabrera's actions cannot by imputed to the court."
What the arbitration panel will make of these matters, among many, many others, is uncertain. What Judge Kaplan will make of them is likely to please Chevron and make it more difficult for Donziger and his allies as they try to enforce their dubious Ecuadorian court victory in third countries, such as Canada.
Before it's here, it's on the Bloomberg Terminal.
LEARN MORE