Citigroup, Standard Chartered's Korean Units Told to Probe Leaks
Seonjin Cha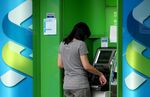 South Korea's financial regulator ordered Citigroup Inc. and Standard Chartered Plc's units to investigate allegations that staff members or contract workers sold client information to private lending agents.
The Financial Supervisory Service is waiting to hear from Citibank Korea Inc. and Standard Chartered Bank Korea Ltd. about the internal probes before deciding whether to conduct its own investigation, Lee Sang Koo, the director-general of the FSS's bank supervision team, said by phone today.
The FSS may begin inspecting the two banks regarding the allegations, the Seoul Economic Daily reported today, without citing anyone. The South Korean prosecutors' office said in a Dec. 11 statement it arrested an employee of "Bank C" for leaking information on 34,000 clients including details of lending contracts.
Citibank Korea confirmed in an e-mail today that it was "Bank C." The Seoul-based unit conducted its own investigation at the FSS's request following the arrest, it said, without elaborating on the results of the probe.
The prosecutor's office also arrested a worker from an information technology company contracted to a lender identified only as "Bank S" for stealing 104,000 clients' information, according to the Dec. 11 statement. The office is separately investigating 10 private lending agents, it said, without naming them.
The data was sold at up to 500 won (47 U.S. cents) per piece of client information, according to the statement. The leaks were the "biggest ever" incurred by banks, prosecutors said.
Four calls and an e-mail seeking comment from Standard Chartered's Korean unit went unanswered.
Before it's here, it's on the Bloomberg Terminal.
LEARN MORE