BlackRock Buys Turkey Shares After Turmoil Spooks Markets
Isobel Finkel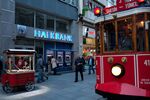 BlackRock Inc., the world's biggest money manager, said it's seizing an opportunity to buy Turkish stocks after political turmoil rattled other investors and drove down prices.
"We have been adding to positions in Turkey, especially in the financial sector, over the last few days, as valuations are now compelling," Sam Vecht, head of the emerging markets specialist team at BlackRock in London, said yesterday in e-mailed comments. "Historically, in emerging markets it has paid off to be brave when others are fearful."
Turkish stocks tumbled this month as Prime Minister Recep Tayyip Erdogan's government was hit by a corruption probe that has also fueled concern he faces a power struggle with an Islamic cleric. BlackRock is the top private owner in two firms whose chief executive officers were detained: state-owned lender Turkiye Halk Bankasi AS and Emlak Konut Gayrimenkul Yatirim Ortakligi AS, the nation's biggest real estate developer.
The Borsa Istanbul 100 Index has slid 7.8 percent since police began raids in the probe on Dec. 17, bringing the year-to-date decline to 12 percent, or 24 percent on a dollar basis. Stocks on the Turkish index were priced at 9 times trailing 12-month earnings at yesterday's close of trading, compared with 11.7 times for the MSCI Emerging Markets Index. The Turkish currency has dropped 15 percent against the dollar this year.
Bad News
"While we watch the political situation in Turkey, and in all emerging markets very closely, we do think, that in Turkey, lots of bad news is already in the price," Vecht wrote. Holdings there "for the first time in many months are now overweight relative to our benchmark."
Halkbank CEO Suleyman Aslan was formally arrested Dec. 21 and Emlak Konut CEO Murat Kurum was called in for questioning Dec. 17 amid scores of apprehensions tied to investigations of gold smuggling, money laundering, graft in government tenders and bribery. BlackRock had added to its holdings of both firms in recent months, according to data compiled by Bloomberg showing the firm's stake relative to other investors'.
Halkbank dropped 19 percent since the Dec. 17 raids. Emlak Konut has slumped 16 percent, including 0.9 percent yesterday even as the company said it bought back 33.4 million liras ($16 million) of its own stock. Third Point LLC, the U.S. hedge fund owned by billionaire Daniel Loeb, bought $150 million in Emlak Konut shares in November, its only investment in Turkey.
Halkbank fell 0.8 percent to 12.85 liras at the close in Istanbul, while Emlak Konut rose 4.7 percent to 2.23 liras.
'Acted Lawfully'
Halkbank said in a filing yesterday that it has acted lawfully. Authorities allegedly found $4.5 million inside shoe boxes at Aslan's house, Hurriyet newspaper said last week. The money was to be donated to building Islamic schools in Turkey and Macedonia, he said, according to the publication.
The Borsa Istanbul 100 fell to 68,086 yesterday, the lowest since Sept. 6 and 27 percent below a record high in May. Turkey's political tensions will probably escalate while stocks under-perform until local elections in March, Istanbul-based Tera Brokers said in an e-mailed report yesterday. Erdogan's ruling Justice and Development Party has led the country since 2002 and is seeking a fourth term. Presidential elections are scheduled for August and general elections in 2015.
Erdogan has said the inquiries amount to an attempt to overthrow his government. More than 100 police chiefs have been dismissed since the corruption probe began, sparking concerns of an escalating confrontation with U.S.-based Islamic cleric Fethullah Gulen, who has a wide following in the police and judiciary. Erdogan has said people conducting the probes are trying to create a "state within a state" and vowed to expose them.
Gulen's Denial
Gulen has denied any role in the investigations. In a videotaped speech on his website Dec. 21, the imam said his faith community was under attack and lashed out against Erdogan for firing investigators.
"I wish fire on the houses of those who go after the people who catch the thieves and don't see the thieves," Gulen said in the video.
BlackRock said global stocks will climb in 2014, according to its 2014 investment outlook published on Dec. 9. Stocks in Europe are reasonably priced and offer better value for investors than equities in the U.S., according to Chief Investment Strategist Russ Koesterich.
Before it's here, it's on the Bloomberg Terminal.
LEARN MORE