Liberal Democrats Warn Cameron on Immigration-Cap Plans
Eddie Buckle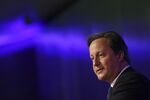 The senior Liberal Democrat ministers in U.K. Prime Minister David Cameron's coalition government said any plans by his Conservative Party to cap immigration from other European Union countries won't work.
Putting restrictions on people from the rest of the EU moving to work in Britain would be "illegal and impossible to implement," Liberal Democrat Business Secretary Vince Cable said yesterday on the BBC's "Andrew Marr Show." He said there's "quite a lot of tension" within the coalition over the issue.
"Sticking a big no-entry sign on the cliffs of Dover may be politically popular, but at a huge economic cost," Liberal Democrat Deputy Prime Minister Nick Clegg was quoted as saying by the Sunday Times newspaper.
The Sunday Times published a leaked Home Office paper last week suggesting Conservative Home Secretary Theresa May favors a possible cap on migration from the EU of 75,000 a year. The Conservatives have made cutting immigration a key policy, as opinion-poll backing has risen for the anti-EU U.K. Independence Party, eating into Tory support.
The Conservatives are "in a panic because of UKIP," Cable said.
The topic is in focus as Bulgarians and Romanians gain the right to work freely within the EU starting Jan. 1. Cameron announced last week that job seekers from other EU countries will now have to wait for three months before they can claim out-of-work benefits.
The Observer newspaper yesterday cited Bulgarian President Rosen Plevneliev as saying in an interview that "isolating Britain and damaging Britain's reputation is not the right history to write."
Is Britain "writing a history of a switch to isolation, nationalism and short-term political approaches?" the president was cited as saying. "Bulgarian people are raising a lot of questions today about the democratic, tolerant and humane British society."
Before it's here, it's on the Bloomberg Terminal.
LEARN MORE