John Eisenhower, Historian-Son of Former President, Dies at 91
Laurence Arnold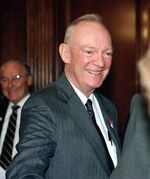 John S.D. Eisenhower, the son of former U.S. President Dwight Eisenhower, who followed his father's path into the military and served as U.S. ambassador to Belgium, has died. He was 91.
He died on Dec. 21, the Associated Press reported, citing a statement from his family that gave no cause. The Washington Post said he died at his home in Trappe, Maryland.
Eisenhower reached the rank of brigadier general in the U.S. Army Reserve, worked in the White House and wrote several books on military history. President Richard Nixon, his father's vice president, named him ambassador to Belgium in 1969.
He made clear in his writings that he felt the pressure of living in the enormous shadow of his father, the supreme allied commander in World War II who served two terms as U.S. president after landslide victories.
"His unusual success, while exhilarating to us all, made me feel that among strangers I was always some sort of curiosity," he wrote in "Strictly Personal," his 1974 memoir. "And it affected the normal relations between a father and son, making it doubly difficult for me to establish my own identity."
The only child of Dwight and Mamie Eisenhower to survive infancy, he grew close to his father after the family left the White House.
He helped his father write a memoir about his years as president, then wrote about his father's military legacy in the 2003 book "General Ike: A Personal Reminiscence."
Military Career
He chose to focus on "the military Ike" rather than the political one, he wrote, because "to me, at least, Ike's place in history will hinge far more on his days in uniform than on his days in the White House."
His other books include "The Bitter Woods," about the Battle of the Bulge in World War II; "So Far from God: The U.S. War With Mexico, 1846-1848," and "Agent of Destiny: The Life and Times of General Winfield Scott."
John Sheldon Doud Eisenhower was born on Aug. 3, 1922, in Denver, where his maternal grandparents lived. Mamie Eisenhower had returned there from Panama, where her husband was stationed, to give birth near her family.
A son, Doud, born in 1917, succumbed to scarlet fever at age 3. John's birth five years later "stabilized" a marriage that had been strained by Doud's death and the pressures of an itinerant military lifestyle, Lewis Gould wrote in "American First Ladies: Their Lives and Their Legacies."
D-Day Graduate
John Eisenhower grew up near the military bases where his father trained -- Fort Leavenworth in Kansas, Fort Benning in Georgia, the Army War College in Washington. He celebrated his sixth birthday on a ship bound for Europe, where his father was assigned to write a guide book to historic World War I sites in France.
In 1936, after finishing grade school in Washington, Eisenhower traveled with his mother to the Philippines, where his father was stationed. When World War II broke out in Europe, the family returned to Washington.
He graduated West Point on June 6, 1944 -- D-Day, when his father was overseeing the long-awaited Allied invasion of German-occupied Europe. He traveled immediately to London for a three-week visit with his father and flew with him to Normandy to visit British commanders, a dangerous journey.
"Apparently we had flown in a little close for the Navy's comfort, and someone had put up a couple of 20-mm shells to warn us away," the younger Eisenhower later wrote.
No Combat
He joined an infantry regiment, only to be removed from it before seeing combat. American officials didn't want the supreme allied commander to be distracted with worry about his own son.
After the war ended, he taught English at West Point from 1948 to 1950, then attended Armored School at Fort Knox, where he followed efforts by Republican voters to draft his father to run for president.
He confided his thoughts on the matter in a January 1952 letter to his father:
"My feeling is that this country is absolutely desperate for leadership -- not dictatorship -- but leadership. There is the gloomy possibility of the American people's having to choose in November between Taft and Truman or his successor. I think they deserve a better break."
John Eisenhower served with the U.S. armed forces in Korea during his father's first years in the White House and planned on a career in the military. Then government service beckoned.
Intelligence Briefing
He took jobs at the White House and the Pentagon starting in 1957 and joined the White House staff during the last 15 months of his father's presidency, delivering the president's daily intelligence briefing.
When his parents moved from Washington to Gettysburg, Pennsylvania, John Eisenhower and his family moved there, too. He helped his father write a two-volume presidential memoir, "Mandate for Change" and "Waging Peace."
He chaired Nixon's 1968 campaign in Pennsylvania. After winning, Nixon named him ambassador to Belgium.
Eisenhower and his wife, Barbara, were married from 1947 until divorcing in 1986. They had four children -- daughters Anne, Susan and Mary, and son Dwight II, who married another child of a president, Julie Nixon.
With his second wife, the former Joanne Thompson, Eisenhower wrote a 2001 book, "Yanks: The Epic Story of the American Army in World War I."
Before it's here, it's on the Bloomberg Terminal.
LEARN MORE