U.K. Forecast of Gales Across the South Prompts Travel Warnings
Anchalee Worrachate and Heather Langan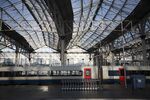 A forecast of heavy rain and strong winds across southern England and Wales today prompted warnings that roads, railways and flights may be severely affected as Christmas approaches.
"The public should be prepared for the likelihood of some significant disruption due to the combined hazards of heavy rainfall and high winds," the U.K.'s Met Office forecasting agency said in a weather warning late yesterday. "The rainfall should clear southeast England on Tuesday morning."
The Highways Agency issued an amber alert, advising drivers of gusts as high as 60 mph south of the M4 route and 70 mph on roads near the southern coast. Some bridges may need to be closed, according to the agency's website.
London's Heathrow airport advised passengers that disruption to flights is possible today.
Network Rail Ltd. may impose an emergency speed restriction of 50 miles (80 kilometers) per hour on its services, down from the usual 100 mph, according to an e-mail from Chiltern Railways, which runs trains from London to Birmingham and Oxford.
Some trains may be delayed or canceled, Network Rail said on its website. As many as 25 train operating companies are affected by the severe-weather warning, among them Virgin Trains, Heathrow Express, Gatwick Express, Stansted Express, Southeastern, South West Trains, London Midland and East Midlands Trains, according to the website.
Reduced speeds may also be imposed on trains to and from London St. Pancras International station, where Eurostar Group Ltd. operates services to European destinations including Paris and Brussels, Network Rail said.
Before it's here, it's on the Bloomberg Terminal.
LEARN MORE