Dubai Index Drops Most in a Week as Emaar, Emirates NBD Decline
Sarmad Khan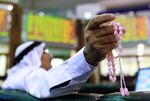 Dubai's benchmark index fell the most in a week on speculation a three-day rally had left shares expensive relative to likely returns. Abu Dhabi's main gauge rose and Qatar's declined.
The DFM General Index dropped 0.6 percent, the most since Dec. 16, to 3,225.01 at the close in Dubai. Emaar Properties PJSC, builder of the world's tallest building, with the biggest weighting on the index, decreased 1.6 percent to 7.28 dirhams. Emirates NBD PJSC, the second-largest lender in the United Arab Emirates, retreated 2.3 percent to 5.85 dirhams. Abu Dhabi's ADX General Index advanced 0.2 percent to the highest since September 2008. Qatar's QE Index lost 0.6 percent. State-run Qatar Petroleum will sell shares in Mesaieed Petroleum Holding, Finance Minister Ali Al Emadi said in Doha.
Dubai's gauge has almost doubled this year and is the best performer among 93 indexes tracked by Bloomberg. The index's 14-day relative-strength index fell to 75.5 today from 79.3 on Dec. 19. A reading above 70 typically indicates prices have risen too far and are poised for a decline.
"The market is taking a breather," Wadah Al Taha, the chief investment officer at Dubai-based Al Zarooni Group, said by phone. There will be more selling pressure toward the end of the year, he said.
Waha Capital, an Abu Dhabi-based investment and leasing firm, rose 12 percent to to 2.17 dirhams, the highest since July 2008 and the sixth consecutive gain, after the company said it expects higher revenue and profit from its stake in AerCap Holdings NV. The Dutch aircraft-leasing company said on Dec. 17 it agreed to buy International Lease Finance Corp. from American International Group Inc. for $5 billion.
Rent Increases
Arabtec Holding Co. climbed as much as 1.1 percent before closing unchanged at 2.79 dirhams. The U.A.E.'s biggest contractor will open real-estate development companies in Dubai and Abu Dhabi and is considering affordable housing projects in Egypt, it said in a statement to the Dubai bourse.
Dubai, where property prices have surged more than 40 percent this year, will allow rents to increase at a faster pace under a decree issued by Sheikh Mohammed bin Rashid Al Maktoum, the emirate's ruler. Landlords can raise rents by 20 percent if contracts are 40 percent or more below average prices, as measured by a government index. Previous guidelines allowed for increases of as much as 20 percent for rents that were 55 percent or more below market value.
"In the long term it is good news for the developers' cash flows," Harshjit Oza, assistant director of research at Cairo-based Naeem Holding, said by phone. "Aldar and even Emaar have a lot of recurring income, and higher rents means higher cash flows."
Shares of Aldar Properties PJSC, Abu Dhabi's biggest developer, advanced 1.9 percent to 2.69 dirhams, the highest since Nov. 6, in double the three-month daily average volume.
Oil Balance
Saudi Arabia's Tadawul All Share Index increased 0.5 percent. OPEC needn't cut production next year to make room for additional supplies from Iran, Libya and U.S. shale oil, Saudi Oil Minister Ali Al-Naimi said yesterday in Doha, adding he was "optimistic" the market will stay balanced and stable next year.
Bahrain's index was little changed, Kuwait's gauge gained 0.3 percent and Muscat's retreated 0.3 percent.
Egypt's EGX 30 Index declined 0.2 percent. Six of October Development & Investment Co. fell 5 percent, the most in more than six months, to 22.79 Egyptian pounds after Al Mal reported the company stands to pay almost 30 percent of its market value to the government to keep a disputed Cairo plot.
Israel's TA-25 Index gained 1.2 percent and the yield on the government's benchmark 2023 bond due March 2023 fell for the first time in eight days, slipping 3 basis points to 3.60 percent.
Africa-Israel Investments Ltd. jumped 9.4 percent, the most since Nov. 3, to 6.897 shekels. Oil Refineries Ltd. shares fell 2.8 percent to 1.089, the lowest since Dec. 4 in more than six times the three-month average daily volume. Today was the only day for trading rights, Guil Bashan, an analyst at Tel Aviv's IBI-Israel Brokerage & Investments, said by phone.
Before it's here, it's on the Bloomberg Terminal.
LEARN MORE