Dollar Weakens as Investors Exit Bullish Wagers; Real Advances
John Detrixhe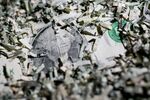 The dollar dropped versus most of its major peers amid speculation investors were exiting bets on further gains before year-end.
The U.S. currency advanced versus eight Group of 10 currencies last week as the Federal Reserve said it will reduce the size of its bond-purchase program and reiterated that benchmark rates will remain low. Brazil's real gained on speculation the central bank will help prevent it from falling further after last week's decline. The Canadian dollar strengthened after a report showed the nation's gross domestic product expanded for a fourth straight month in October.
"From now until the end of the year I doubt you're going to see any big moves," said Sireen Harajli, a strategist at Mizuho Bank in New York, said in an interview. "The Fed started tapering and it's very dollar supportive."
The dollar was little changed at 104.11 yen as of 5 p.m. New York time. It climbed to 104.64 on Dec. 20, the highest since October 2008. The greenback slid 0.2 percent to $1.3696 per euro. Japan's currency dropped 0.2 percent to 142.59 per euro.
The Bloomberg Dollar Spot Index, which tracks the U.S. currency against 10 major counterparts, slipped 0.1 percent to 1,020.35, after rising 0.5 percent last week. The measure is up 3.4 percent this year.
Canadian Growth
The Canadian dollar strengthened for a third day after a report showed economic growth was led by manufacturing and wholesale trade. The loonie, as the Canadian dollar is known for the image of the aquatic bird on the C$1 coin, rose 0.3 percent to C$1.0605 per U.S. dollar.
Economists raised their 2014 inflation forecast in Brazil to 5.97 percent from 5.95 percent, according to the median forecast in a weekly central bank survey published today. They cut their 2013 year-end real outlook to 2.34 from 2.33.
The real appreciated 1.3 percent to 2.3573 per dollar, the most among 16 major counterparts tracked by Bloomberg.
Thailand's baht declined to the lowest level since 2010 after more than 1,000 anti-government protesters surrounded Prime Minister Yingluck Shinawatra's home in Bangkok as she criticized the opposition Democrat party's plan to boycott a Feb. 2 election.
The baht fell 0.3 percent to 32.695 per dollar after falling to 32.773, the weakest since March 2010.
Price Swings
JPMorgan Chase & Co.'s Global FX Volatility Index climbed for a second day, reaching 8.43 percent, the highest level on a closing basis since Dec. 17. The gauge has climbed from 7.62 percent on Oct. 28.
Hedge funds and other large speculators increased bets the yen will decline against the U.S. dollar to almost the highest level since 2007, figures from the Washington-based Commodity Futures Trading Commission show. The difference in the number of wagers on a decline in the yen compared with those on a gain -- so-called net shorts -- was 130,223 on Dec. 17, compared with net shorts of 129,711 a week earlier.
The measure rose to 133,000 in the period ended Dec. 6, the most since 2007, when it climbed to a record 188,000.
"It would be difficult to say that the dollar is suffering today, it's just not building on last week's gain," Andrew Wilkinson, chief economic strategist at Miller Tabak & Co. in New York, said by phone. "That's not a reason to be bearish at this point. The tone continues to feel risk-on."
Fed Policy
The U.S. currency gained last week as the Fed said Dec. 18 it plans to cut monthly bond purchases in January to $75 billion from $85 billion. It reinforced assurances that it's a long way from raising borrowing costs, saying the benchmark rate is likely to stay low "well past" the time that unemployment falls below 6.5 percent, particularly if inflation continues to run below its 2 percent goal.
The Fed has kept its benchmark rate at zero to 0.25 percent since 2008.
"The dollar is still basking in the support that tapering should provide through 2014, but there has inevitably been some profit taking among those exchange rates which saw the bigger recent moves," said Daragh Maher, a currency strategist at HSBC Holdings Plc in London.
The dollar appreciated 3.9 percent and the euro climbed 8.3 percent this year, according to Bloomberg Correlation-Weighted Indexes that track 10 developed-nation currencies. The yen has weakened 15.1 percent, the largest decline, followed by the Aussie's 12.2 percent drop.
Before it's here, it's on the Bloomberg Terminal.
LEARN MORE