Khodorkovsky Considers Future as Family Reunites in Berlin
Birgit Jennen and Jeff Black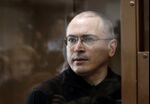 Mikhail Khodorkovsky, once Russia's richest man, was reunited with his son and parents in Berlin as he began to consider his future after being released from 10 years in a Russian prison.
"My family is finally united," son Pavel Khodorkovsky told reporters outside Berlin's Adlon hotel yesterday. "I am thrilled to be here in Berlin in Germany because my father is free. We are very, very happy."
The 50-year-old businessman-turned-dissident was flown to the German capital after Russian President Vladimir Putin ended his incarceration two days ago with a pardon. The former owner of Yukos Oil Co. plans to address the press at 1 p.m. today near Checkpoint Charlie, the iconic former border-crossing that became a symbol of the division of Cold War Berlin.
Khodorkovsky's mother Marina and father Boris arrived in Berlin last night, according to video footage posted on the website of Russian channel TV Rain.
Russia's most famous inmate until this week was taken to the German city on a private jet, said former Foreign Minister Hans-Dietrich Genscher, who helped secure Khodorkovsky's release with the support of Chancellor Angela Merkel.
Khodorkovsky said he had no choice about leaving Russia in an interview with the New Times magazine. He doesn't plan to be active in politics, according to the interview published today.
Leave Russia
"Knowing our reality, we can absolutely certainly understand that I was asked to leave the country," Khodorkovsky said in an interview with Yevgenia Albats, chief editor of the New Times, published on the magazine's website.
He thanked Genscher in an e-mailed statement and said he'd first focus on repaying "my debt to my parents, my wife and my children." Genscher had proposed he seek a pardon, without admitting guilt, on Nov. 12, he said.
Khodorkovsky packed his belongings after hearing from television that Putin would pardon him, according to an interview with TV Rain published on the Russian television channel's website.
"I gathered up my papers, and assumed that they'd release me from prison within a day, before journalists arrive," he said. "It's our standard tradition, our officials fear journalists."
His mother had been undergoing cancer treatment in Germany, Dmitry Gololobov, former chief attorney at Yukos, said Dec. 19.
Khodorkovsky funded opposition parties before his arrest and campaigned from prison for Russia to develop a civil society. He didn't say where he'll go next or if he'll settle in another country, as have several former Yukos executives.
Family Time
"When I saw him he was in good condition, but of course very tired, and that's also the reason he's avoiding publicity at this time," said Genscher on ZDF television. "He first wants time for himself and for his family. Today's not the day to pass judgment on Russian politics, but to be happy that someone who was incarcerated for 10 years can once again live in freedom."
The decision to free Khodorkovsky may help distract from international outrage that Russia has stoked on several fronts - - including its plan to enforce a ban on what it calls gay propaganda at February's Winter Olympics. World leaders including U.S. President Barack Obama say they'll skip the 2014 Games in the Black Sea resort of Sochi.
Putin's move "is best understood as part of a domestic and international charm offensive ahead of the Sochi Olympics," said Alexander Kliment and Yael Levine of the Eurasia Group, a political risk research firm. "It does not presage a fresh commitment to substantive reform of Russia's political economy or business climate."
Next Destination
Khodorkovsky is free to return to Russia, Putin's spokesman, Dmitry Peskov, said on Dec. 20.
Khodorkovsky will travel to Switzerland after Berlin, Spiegel Online reported, without saying how it obtained the information. The German publication said that Israel and London are also potential destinations.
"There will be conditions attached to Khodorkovsky's pardon, requiring him to keep a low profile," Chris Weafer, a senior partner at Moscow-based consulting company Macro Advisory Partners, said by phone on Dec. 19.
Khodorkovsky said he won't fight to recover Yukos assets and he isn't interested in Yukos money, according to TV Rain. Yukos was dismantled and sold at auction, mostly to state-run OAO Rosneft, to cover back taxes.
Amassed Assets
Former Yukos managers have amassed more than $2 billion of assets and cash held in two Dutch entities, which they say is intended for shareholders who lost in the Yukos liquidation. Khodorkovsky transferred his stake in the company to a business partner after his 2003 arrest.
Putin came to power in 2000 pledging to curb the political influence of businessmen who gained control of Russia's resource wealth after the Soviet Union collapsed. Khodorkovsky was arrested for fraud and tax evasion at a Siberian airstrip in 2003. He has maintained his innocence, saying the cases against him and Yukos are retribution for financing opposition parties, an accusation the Kremlin has denied.
"I think after he's free, Khodorkovsky will concentrate on caring for his family and mother," Gololobov, the attorney, said by phone from London, where he now lives. "He'll drop out of the public eye. He won't speak out against Putin."
Getting back some of a fortune once estimated at $15 billion would be tricky. Khodorkovsky ranked 16th on the Forbes billionaires list in 2004.
Yukos Assets
Rosneft, which has grown into the world's largest publicly traded oil company by output, isn't concerned about any attempts by Khodorkovsky to regain former Yukos assets or lawsuits filed by ex-managers, Chief Executive Officer Igor Sechin, a former Putin deputy, told reporters yesterday. A group of former executives that has kept management of Yukos assets outside Russia has won two cases against Rosneft.
"We don't see any risks for the company," Sechin said. "The fact that Mikhail Borisovich sought a pardon improves the legal basis to defend our interests in court," he said, using Khodorkovsky's patronymic.
Sechin said he had few concerns about the man himself and would even consider a job application from Khodorkovsky, although all top management slots at Rosneft are filled.
Job 'Joke'
"Mikhail Borisovich is an experienced, creative man," he said. "He'll put his talents to use."
Khodorkovsky said Sechin probably "wishes him all the best," calling the job offer a "joke," according to TV Rain.
In 2004, Khodorkovsky transferred his stake of more than 60 percent in Group Menatep Ltd., which held about 40 percent of Yukos, to business partner Leonid Nevzlin. Nevzlin fled a murder charge in Russia and is now living in Israel.
Former Yukos managers are holding onto proceeds from the $1.5 billion sale of Yukos's stake in Lithuanian refiner Mazeikiu Nafta AB to PKN Orlen SA and the $240 million sale of Transpetrol AS back to Slovakia's government. They've also won cases against Rosneft in the U.K. and the U.S. to recover more than $600 million in loans granted to Yukos units before the state-controlled company bought them at auction.
Winter Olympics
Khodorkovsky's pardon came less than two months before Russia hosts the Winter Olympics. It follows an amnesty this week, during the 20th anniversary of the nation's constitution, that applies to as many as 22,000 people. Among those slated for release are two members of the all-female band Pussy Riot imprisoned after performing a "punk prayer" protesting Putin in Moscow's main Orthodox cathedral in February 2012.
Putin's opponents aren't taking Khodorkovsky's pardon as evidence the president is softening, and the imprisoned former billionaire has had the threat of additional charges held over his head.
"I'd rather bet my money on political strategy and the Olympics than on softness in old age" as Putin's motive for the pardon, said Sergei Guriev, a former adviser to Prime Minister Dmitry Medvedev. Guriev fled to Paris in April after two months of questions over a case involving Yukos.
"I'm very surprised and happy for Khodorkovsky," Guriev said by e-mail. "As for me, I will stay in France."
Before it's here, it's on the Bloomberg Terminal.
LEARN MORE