Thai Billionaire's Singapore Revamp Wins Over Market
Tanya Angerer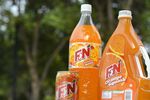 Charoen Sirivadhanabhakdi, Thailand's richest man, is getting support in the bond market for his plan to reorganize Fraser & Neave Ltd., a maker of beverages, books and luxury condos.
The 130-year-old Singapore conglomerate, which Charoen bought this year, sweetened terms after debt holders refused a bid last month to change the conditions on notes including its 2016 Singapore-dollar bonds so it could spin off its property unit. The yield on those securities dropped to a two-month low at 2.27 percent, DBS Group Holdings Ltd. prices show. Corporate yields in the currency average 3.17 percent, according to HSBC Holdings Ltd.
Charoen, who has $8.2 billion according to the Bloomberg Billionaires Index, is focusing F&N on its food and beverage business, as the maker of the 100Plus sports drink aims to strengthen its share of the consumer market in Southeast Asia. It will likely gain approval next week for the spinoff of real estate unit Frasers Centrepoint Ltd. after more than doubling amendment fees for bond investors who accept the new terms, three people familiar with the matter said, asking not to be identified because the matter is private.
"I think F&N was just playing hardball," said Donald Chua, an equity analyst at CIMB Bank Bhd in Singapore who expects the case to be closed by next week.
Sweetened Fees
F&N is asking the holders of its 5.5 percent notes due 2016 and its 6 percent 2019 securities to waive certain default clauses and allow it to buy back the debentures on or before June 30, 2014. In return, investors on the 2016 bonds will receive full face value, a 6.5 percent fee and the accrued interest on the date that it can call the security, according to a statement on Dec. 6. The company had previously offered a 2.75 percent fee, according to an announcement on Oct. 28.
The employer of more than 10,000 people globally also raised the fee on its 2019 securities to 9 percent from 3 percent. Terms on the first proposal were below market levels, said the same three investors at the time.
"We believe the revised terms fully meet the expectations of the noteholders," Jennifer Yu, a Singapore-based investor relations manager at F&N, wrote in an e-mailed response to questions. "We look forward to working with them in future fund-raising exercises."
Yield Appeal
Yields on Singapore-dollar corporate bonds averaged 2.95 percent this year. That's the lowest in a decade after 2.68 percent in 2012.
"The low-yield environment is one of the biggest factors that led to the push back from investors," said Hui Choon Yuen, partner and head of capital markets at Wong Partnership LLP, a Singapore-based law firm. "If the bonds were bought back now, most new bonds would not pay those equivalent yields, so this created a lot more angst about the whole situation."
After the spinoff, F&N will be on the look out for acquisitions for food and beverage companies, chief financial officer Hui Choon Kit said at a press conference in August.
F&N shareholders voted in favor of the spin off of Frasers Centrepoint at an extraordinary general meeting on Nov. 13, according to a company release.
F&N, which also owns Singapore's Times Publishing Group, asked to amend the terms on S$808.25 million ($638.8 million) of debt, comprising six bonds in October. It got the go-ahead on four of them after offering to pay face value plus a fee worth half of the note's coupon and accrued interest on the date that it can call the securities.
"Coming up with a payment scheme to satisfy everyone isn't easy," CIMB's Chua said. "They tried to be equitable to everybody."
ThaiBev Downgrade
F&N's shares have fallen 41 percent this year. The company in July undertook a capital reduction exercise, returning some S$4.7 billion to shareholders.
Charoen acquired F&N via his companies including Thai Beverage Pcl. Standard & Poor's downgraded ThaiBev one notch to BB+ earlier this month, saying the group is "highly leveraged.''
Bondholders on the 2016 and 2019 securities have until the morning of Dec. 21 to vote on the increased offer.
''It's a very rare event that investors have to push back,'' said Goh Han Peng, a Singapore-based equity analyst at DMG & Partners Securities Pte. ''F&N thought it could take advantage of the fact that the Singapore bond market is illiquid. It shows that if investors rally together, they are able to demand better terms.''
Before it's here, it's on the Bloomberg Terminal.
LEARN MORE