Shark Fin Soup Still Sells Despite China's Extravagance Crackdown
by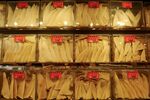 Even as Chinese President Xi Jinping clamps down on excessive wining and dining—and even fancy funerals—the controversial delicacy shark fin soup remains on the menu in plenty of China's upscale restaurants.
That's shown by a survey of 207 high-end restaurants in Beijing, Shanghai, and Shenzhen carried out by Humane Society International and the Nature University, an environmental organization in Beijing. More than three out of four staffers queried, or those from 156 restaurants, said shark fin soup remains available. "Consumption of shark fin represents animal cruelty, wasteful extravagance, and is environmentally unsustainable," Iris Ho, HSI's wildlife program manager, said in a statement. China is the largest consumer of shark fin soup in the world, with the dish popular at official banquets, despite years of efforts to restrict it.
In March 2011 a group of Chinese legislators tried unsuccessfully to ban the country's shark fin trade. The "soup represents wealth, prestige, and honor as the gourmet food was coveted by emperors in China's Ming Dynasty because it was rare, delicious, and required elaborate preparation," the official Xinhua News Agency reported at the time.
In July of last year, China's State Council announced plans to prohibit the dish at all official government functions within three years. "Shark fin soup, considered a delicacy and a symbol of social status, is served at mostly exclusive restaurants throughout China," reported Xinhua. "Moreover, a widespread belief that shark fin is of great nutritional value has only helped with its fame."
The efforts didn't get teeth, however, until earlier this month. That's when a ban was finally announced, as part of Xi's ongoing crackdown on extravagance. Items now restricted from official receptions include "cigarettes, expensive alcohol, and dishes containing shark fin, bird nests, and wild animal products," Xinhua reported on Dec. 9. "My glutted stomach finally gets a rest," an official told the news agency.
In the recent survey, 52 of the restaurants canvassed were asked more detailed questions, including whether they had heard of restrictions on serving the soup. Only 16 knew of the ban, while just 21 restaurants were aware that populations of some shark species are threatened.
Before it's here, it's on the Bloomberg Terminal.
LEARN MORE