Obama Lifts Health Mandate for Those With Canceled Plans
Roger Runningen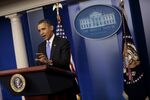 President Barack Obama said the thousands of people now signing up for coverage under the Affordable Care Act overshadow the hit he's been taking in the polls for the defect-riddled rollout of the law.
"The health-care website problems were a source of great frustration," the president said at a news conference at the White House. "I now have a couple million people, maybe more, who are going to have health care on Jan. 1, and that is a big deal. That's why I ran for this office."
More than 1 million people have signed up for policies so far, Obama said. More than half of those were through the federal government's healthcare.gov website, and the rest through state health-care exchanges.
The pace of sign-ups still lags behind the projections made before the Oct. 1 start of the program and yesterday the administration said it will provide a "hardship exemption" to as many as 500,000 people who won't have health plans on Jan. 1 because their policies are being canceled and they haven't found new coverage that meets the standards of the new law.
The decision means those people can buy bare-bones catastrophic insurance and would be shielded from any fines if they go without medical insurance next year.
Raising Alarm
The latest change in the health-care law comes just before the Dec. 23 deadline to purchase policies for coverage that starts Jan. 1. The exemption raised alarm bells with insurers, who said the exemptions may keep younger, healthier people from buying new coverage, leaving fewer premiums to help subsidize coverage for older Americans.
"This latest rule change could cause significant instability in the marketplace and lead to further confusion and disruption for consumers," Karen Ignagni, the president of America's Health Insurance Plans, the industry's Washington-based lobbying group, said in an e-mail through a spokesman.
Before it's here, it's on the Bloomberg Terminal.
LEARN MORE