When It's Wrong to Sack Your Struggling Kicker
by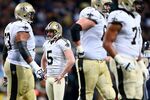 The New Orleans Saints waived their longtime kicker, Garrett Hartley, after he missed two field goals in a loss against the St. Louis Rams last weekend. Do the stats support the firing as the right move?
Hartley's poor performance this year—22 for 30 on field goal attempts—and the sort of volatility suggested by having missed two in a row anchor the case for letting him to go. But the numbers don't support the Saints' decision. It seems to me that the team dumped its kicker at the bottom, like somebody selling a stock at its low, while a more measured analysis sees a struggling athlete probably due for a rebound.
Before entering the season, Hartley was a career 60-for-71 kicker—an 84.5 percent success rate. This year his tally so far is off by about 10 percentage points, lowering his career total to 82 for 101 (81 percent).
Applying the binomial distribution—seen in a recent bit of basketball analysis—to Hartley's success rate reveals a career 84.5 percent kicker who could reasonably be expected to post a lackluster 22-for-30 performance during a given season. It's possible that 84.5 percent is Hartley's "true" percentage while this year is just random luck, like flipping tails several times in a row. Perhaps his "true" career percentage is 81 percent, in which case making 22 for 30 is perfectly normal.

Looking at Hartley's percentage as it accumulated throughout his career, you can see he started off hot and then settled into his 80 percent to 85 percent range. His percentage has been very steady along the way.

Focusing more closely on the player's trailing 10-game percentage, we see it comes in waves: Hartley has a predictable cycle of ups and downs. Based on this chart, we'd expect some mean reversion to kick in; he should turn it around in the next several games.

It looks like the Saints cut Hartley exactly at the wrong moment, at the bottom. It won't help them to sell at the lows, rather than gaining from his expected rebound. Plus, he's 27; age-related deterioration is not a factor.
Finally, in terms of Hartley's volatility—such as missing two kicks in a row (after having done so earlier this year)—the numbers say that's totally expected as well. On average, a career 84.5 percent kicker with 101 attempts will miss consecutive tries about two or three times in that span. A career 81 percent kicker would miss two in a row about three or four times in 101 tries.

Cutting Hartley from the team is like throwing away a coin because you don't like how often it comes up heads. In the long run, you know what will happen—and nothing he has done violates his long-run percentages.
Before it's here, it's on the Bloomberg Terminal.
LEARN MORE