Maybe Duck Dynasty Star Should Give Shintoism a Chance
By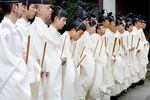 Shintoism, the indigenous religion of Japan, has now become an unlikely part of America's culture wars. Sarah Palin, Rush Limbaugh, and many other conservatives have rushed to the defense of Phil Robertson, the cable TV star suspended from the hit Duck Dynasty show by the A&E network after GQ magazine published some of his antigay remarks. Bobby Jindal, the Republican governor of Louisiana, called Robertson and his family members "great citizens of the State of Louisiana" and thundered, "I remember when TV networks believed in the First Amendment."
Robertson's comments about gays are getting most of the attention, but he also opined about what goes wrong in societies that aren't Christian. One example was Japan.
"Uh, Shintos?" he told GQ. "They started this thing in Pearl Harbor. Any Jesus among them? None."
Seventy-two years after the day that will live in infamy, many Americans probably have at best a vague idea of what Shintoism is (according to Oxford Dictionary Online, it incorporates "the worship of ancestors and nature spirits and a belief in sacred power (kami) in both animate and inanimate things") and what role it played in Imperial Japan. Here in Asia, though, Shinto rituals remain at the center of tensions between Japan and its neighbors. Whenever members of Prime Minister Shinzo Abe's ruling Liberal Democratic Party attend ceremonies at a Shinto shrine in Tokyo dedicated to Japan's war dead, including 14 convicted war criminals from the 1930s and 40s, there's fury in China and South Korea.
Under Abe, Shintoism may be playing an even bigger role in Japanese politics. Abe and many Japanese politicians belong to the Shinto Seiji Renmei (the Shinto Association of Spiritual Leadership,) according to David McNeil, a journalists and adjunct lecturer at Tokyo's Sophia University. Writing in the English-language Japan Times newspaper, McNeil says the association "sees its mission as renewing the national emphasis on 'Japanese spiritual values.'"
Abe, who this month marks the first anniversary of his landslide election victory, is a conservative with hawkish views on the need to revise Japan's postwar pacifist constitution. In October, he became the first Japanese premier in 84 years to attend the most important Shinto ceremony, the Sengyo no Gi at the Ise Jingu shrine about 460 kilometers southwest of Tokyo.
Shintoism does have some aspects that might even appeal to Robertson. After all, Duck Dynasty is a show about a family that makes duck calls and other products for hunters—and Shintoism "has always made one of its highest priorities co-existence with nature," according to the website of Jinja Honcho, the Association of Shinto Shrines. "It could even be said that Shinto could not exist apart from nature. In Shinto, we believe that both humans and nature are children of kami, and live together as members of the same family."
Before it's here, it's on the Bloomberg Terminal.
LEARN MORE