Infosys Loses Eighth Top Executive Since Founder Murthy Returns
Kartikay Mehrotra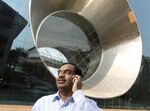 V. Balakrishnan resigned from the board of Infosys Ltd., the eighth top official to leave the Indian software maker since founder N.R. Narayana Murthy returned to run the company in June.
As chief financial officer for six years until October 2012, Balakrishnan, 49, presided over a fourfold increase in net income and helped cement the Bangalore-based company's position as a bellwether in the Indian information technology industry. He was later made the chairman of unit Lodestone Holding AG, a consultancy based in Switzerland. He will join a private-equity firm, he told CNBC TV-18 channel.
"I will be spending time in the private-equity space," he told the channel, denying he has been hired by a rival. "I have been talking to Murthy about this since he came back to the board, and although he didn't want me to go, he understands what I wanted to do."
Infosys is India's second-largest software exporter.
Its shares have rallied 43 percent to 3,551.35 rupees since the end of June when Murthy returned to Infosys to reverse shrinking profit margins as the company struggled to gain market share amid a global slowdown. The S&P BSE Sensex Index has climbed 9.3 percent in that period. The company is the fourth best performer in the Sensex this year.
Since Murthy came back, Infosys has lost key board members, including former chief of U.S. operations Ashok Vemuri and sales head Basab Pradhan.
The company is nominating U.B. Pravin Rao to be a full-time director and Kiran Mazumdar-Shaw, chairwoman of drug maker Biocon Ltd., to be an independent board member, Infosys said in a stock-exchange statement today.
Before it's here, it's on the Bloomberg Terminal.
LEARN MORE