Groundhog Day in the Credit Rating World
by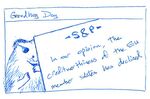 Happy Groundhog Day!
Standard & Poor's has finally decided to lower its long-term credit rating on the European Union, 840 days after downgrading the sovereign bonds of the U.S... and the text of the release sounds strikingly familiar.
S&P further adds, "...EU budgetary negotiations have become more contentious."
Sound familiar?
Ratings agencies have proven themselves utterly unreliable, first by rating mortgage-backed securities AAA, then by downgrading nations well after crises had erupted (even as issues were being resolved). Lest there be any doubt as to the value placed on today's announcement by the market, European stocks are rallying 0.50 percent.
In fact, major asset classes here in the U.S. rallied 400 to 900 basis points during the six months following S&P's U.S. downgrade on August 5, 2011. We learned from that experience that a rating agency downgrade effectively equated to a ringing of the bell, a clear pronouncement telling us the worst was over.
Global investors are responding exactly as they should to today's announcement -- they are buying European assets. Having seen this before, we provide charts of U.S. stocks, Treasury futures and the dollar from two years ago as a road map for what may play out in Europe over the next six months. Happy Groundhog Day.


Before it's here, it's on the Bloomberg Terminal.
LEARN MORE