China's Antigraft Campaign Bans Luxury Funerals
Christina Larson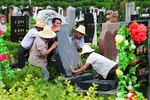 China's ongoing crackdown on the conspicuous consumption of Communist party members will now follow them into the netherworld. On Thursday, China's State Council circulated guidelines for "funeral and interment reform," as the state-run Global Times reported.
Since becoming Communist Party chief in November 2012, President Xi Jinping has led wide-ranging efforts to curb the culture of extravagance and excess of the ruling elite—putting at least a temporary dent in officials' enjoyment of alcohol-fueled, multicourse banquets, showy and unnecessary motorcades, and expensive gifts, such as gold watches and luxury mooncake confections. At a time when raunchy official sex scandals and stories of badly misbehaving sons of privilege continue to light up Chinese social media networks, Xi believes that the preservation of the Communist Party hinges on restoring some aura of official decency, moderation, and authenticity. Hence the government's efforts to discourage eye-popping displays of cadre privilege and to address China's yawning wealth gap.
The latest government dictum is that "Party members and officials should set an example with simple, civilized funerals." Monumental gravestones, fireworks, and the practice of collecting gifts (often, in effect, bribes) at memorials were all specifically banned. The document also encouraged officials to become posthumous organ donors.
In October, CCTV reported on a lavish funeral with a two-mile procession that included professional mourners, a marching band, and a motorcade, which a village official had thrown for his late wife. In addition to creating massive traffic jams, the ceremony raised questions about how a public servant's salary could support such an expensive funeral.
Xi Jinping's antigraft campaign may be as much show as substance. "Xi Jinping couldn't do much about corruption, even if he wanted to," the Atlantic's Matt Schiavenza has written. "But what Xi can do is this: crack down on the appearance of corruption. And that's exactly what he's done."
Ironically, the new ban was announced on the same day that a company providing high-end funeral services—a plot and tombstone in Shanghai costs up to 500,000 renminbi ($82,356)—offered public shares on the Hong Kong Stock Exchange. As Bloomberg Businessweek's Bruce Einhorn wrote yesterday, "death-care service provider" Fu Shou Yuan International Group fared well: "The stock was a big hit among retail investors upbeat about the company's chances." For the past three years, Fu Shou Yuan's sales have risen 17 percent, and the company counts the Carlye Group among its foreign investors. Whether or not Xi's crackdown will hurt future business remains to be seen.
Before it's here, it's on the Bloomberg Terminal.
LEARN MORE