Boeing $7.5 Billion Cathay Order Is Asia's First for 777X
Jasmine Wang and Julie Johnsson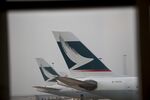 Boeing Co. landed the first buyer in Asia for the new 777X jet with a $7.5 billion sale to Cathay Pacific Airways Ltd., widening the customer base for a plane pivotal to staying ahead of Airbus SAS in the long-haul market.
"Cathay's order is a vote of confidence in the model," Patrick Xu, a Hong Kong-based analyst at Barclays Plc, said yesterday in a telephone interview.
The airline, Asia's largest on international routes, will acquire 21 of the larger -9 version of the 777X and fly them to North America and Europe. The 777X will be Boeing's first passenger jet of the next decade, and Hong Kong-based Cathay said yesterday that deliveries will run from 2021 through 2024.
Cathay's purchase pushed the value of 777X deals past $100 billion at list prices with commitments since September from Germany's Deutsche Lufthansa AG and Persian Gulf carriers Emirates, Etihad Airways PJSC and Qatar Airways Ltd. Buyers typically get a discount.
Boeing rose 1.1 percent to $136.67 at the close in New York, extending this year's rally to 81 percent. Cathay gained 1.5 percent to HK$15.98 in Hong Kong, pushing its advance in 2013 to 12 percent.
The twin-engine 777X, which seats 400 people and aims to match payload capabilities of a four-engine 747 jumbo, boasts new General Electric Co. GE9X turbines and the largest-ever wing for Chicago-based Boeing, with a fold to conserve airport space. GE, which has exclusivity on the model, said that the booked engine orders are valued at more than $21 billion.
Dubai Unveiling
Boeing formally introduced the upgraded plane in two variants at the Dubai Air Show last month, with the larger -9X due in 2020 and costing $377.2 million. The smaller -8X will debut 18 months later and is priced at $349.8 million.
Boeing has long dominated the wide-body aircraft market and accounts for 55 percent of the 2,352 global sales backlog, according to data compiled by Bloomberg. Airbus has made inroads with its new A350, which tallied 814 orders through November and is targeted at the 300-seat segment once monopolized by the 777.
The original 777, which debuted in 1995, took six years to accumulate as many orders as the -X, Randy Tinseth, Boeing vice president for marketing, said Nov. 26 in a blog. The new version's debut has been a boost for the company after setbacks earlier this year with the global grounding of the 787 Dreamliner fleet following a pair of battery meltdowns.
Factory Site
Boeing is narrowing the list of sites where it's considering building the 777X, and a spokesman, Doug Alder, said yesterday that states that bid to play host to an assembly plant were being notified about whether they're still in the running.
The company touched off a nationwide competition to land the factory, lured by the prospect of thousands of jobs, after Machinists in its Seattle-area commercial hub rejected a contract extension with labor concessions that would have kept assembly of the jet in Washington state. Boeing expects to make a final decision in early 2014 on a factory site.
Cathay said the order will replenish and expand capacity. Chief Executive John Slosar has been seeking to replace a fleet of 747-400 jumbos with more fuel-efficient jets amid increased competition for business travelers with Dubai-based Emirates.
Emirates, the largest international carrier, last month ordered 150 777X planes worth $76 billion, with an option to buy 50 more. It's also the No. 1 operator of the original 777.
Cathay's Fleet
At the end of June, Cathay had a fleet of 134 planes, excluding its Hong Kong Dragon Airlines Ltd. and Air Hong Kong Ltd. units, with 32 original 777-300ERs among them, according to an earnings report. It also had 81 aircraft on firm order.
The Asian carrier last year agreed to convert 16 orders for the Airbus A350-900 wide-body into A350-1000s, while also agreeing to add 10 more of the larger planes.
Cathay was assessing the 747-8 and A380 superjumbo, which also has four engines, Slosar said in June. The decision signals that the models don't have a home there, said Will Horton, a Hong Kong-based analyst at CAPA Centre for Aviation.
"The order shows Cathay does not want to fall behind on refleeting the way it did with 747s and A340s," Horton said, referring to the jumbo and a four-engine Airbus model. "The cost inefficiency of those aircraft has really pinched Cathay."
Before it's here, it's on the Bloomberg Terminal.
LEARN MORE