Leaner Times for Wall Street Bond Traders
Reforms meant to reduce risk lead banks to cut pay
by
These should be good times for Wall Street bond departments. Central banks are pumping unprecedented amounts of money into the financial system to keep borrowing rates low and boost economic growth. To capitalize on the low rates, corporations have issued $18.2 trillion of bonds worldwide since 2008, bringing the total outstanding to $9.6 trillion. Speculative-grade offerings have surged this year to a record $518.9 billion globally. Banks earn about three times more for buying and selling junk bonds than investment-grade debt.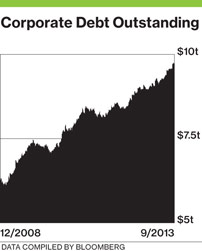 Instead of raking in record revenue, Wall Street banks are jettisoning bond holdings and shrinking credit teams as they seek to comply with rules issued by the Basel Committee on Banking Supervision and the Dodd-Frank reforms passed by Congress in 2010. To meet capital standards, lenders will need to reduce assets—measured according to the level of risk each carries—by at least 25 percent and cut compensation pools for fixed-income, currencies, and commodities departments by more than 20 percent, according to estimates by Sanford C. Bernstein. "Rules and regulations are killing this business," says Michael Maloney, president of New York-based headhunting firm Maloney. "The new Dodd-Frank rules and regulations and everything that's happening in the industry are forcing banks to readdress compensation and risk profiles."
Nowhere is the change clearer than at Credit Suisse. The bank became Wall Street's junk-bond king in 2000 by buying Donaldson, Lufkin & Jenrette, the leading underwriter of subinvestment-grade debt at the time. At least six senior members of the firm's U.S. credit team have departed its New York office this year as top pay at the bank for high-yield debt traders and salespeople fell to about $3.5 million in 2012, from as much as $5 million three years earlier, according to two people with knowledge of the matter who asked not to be identified because the compensation arrangements are private. Drew Benson, a spokesman for Credit Suisse in New York, declined to comment on compensation or the departures.
Before the financial crisis that started in 2007, corporate debt traders, who buy and sell bonds, loans, and other debt instruments, were among Wall Street's biggest risk-takers and best paid employees. Now banks are cutting compensation. Industrywide, debt traders are poised to earn 8.3 percent less in 2013 than they did seven years ago, with a vice president-level salary declining to an average $366,000 from $400,000, says New York recruitment firm Options Group. Wall Street banks are poised to reduce bonuses for their debt groups by 15 percent or more this year, while other employees see increases of 5 percent to 10 percent, according to a Nov. 6 report from research firm Johnson Associates.
UBS, Switzerland's biggest bank, announced 10,000 job cuts last year and said it would exit most debt-related businesses at its investment bank. Royal Bank of Scotland began cutting 2,000 investment banking jobs in June, adding to previous rounds of cuts that included at least 20 corporate debt jobs. Deutsche Bank, Germany's biggest lender, combined its North American investment-grade credit and interest rates units in 2012.
As big Wall Street banks retreat, hedge funds as well as smaller banks and brokerages, including Royal Bank of Canada and Stifel Financial, are stepping in to fill the void. Debt-focused money managers at hedge funds, which are not subject to the rules, are expected to earn an average $1.12 million this year, up from $1.04 million in 2012 and $780,000 the year before, according to a report by Johnson Associates and another research firm, Greenwich Associates.
In purchasing DLJ, Credit Suisse got the services of a team led by Bennett Goodman, who started his career at Drexel Burnham Lambert in the 1980s, when Michael Milken was pioneering the use of speculative-grade debt to fund takeovers. In addition to a $1.3 billion retention package for DLJ executives after the acquisition, Credit Suisse agreed to pay monthly commissions to members of a leveraged-finance team to keep them from defecting, people with knowledge of the matter say. Some of those payments continued into this year, the people say. Credit Suisse managed an unprecedented 20 percent of all global junk-bond issuance in 2000. This year it's winning less than 7 percent, according to data compiled by Bloomberg, and isn't among the top five underwriters for the first time since 1999.
Before it's here, it's on the Bloomberg Terminal.
LEARN MORE