UPS's Holiday Shipping Master: They Call Him Mr. Peak
UPS plans to deliver 132 million packages in the week before Christmas. Meet the man who spends his entire year making sure they arrive in time
by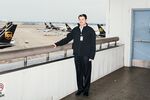 Scott Abell is fretting about free-range turkeys. It's Nov. 20, and United Parcel Service will soon pick up 11,000 of them from a ranch in Northern California and ship them overnight to customers of Williams-Sonoma in time for Thanksgiving. Abell, a 31-year veteran of UPS, is known inside the organization as Mr. Peak. He plans next-day, two-day, and three-day shipments during the holidays, UPS's busiest time of the year. He starts drafting his plan in January and spends the rest of the year refining it. The turkeys are his first big test of the 2013 peak season, which starts in five days.
The birds are impressive: A 24-pounder sells for $185—plus shipping. UPS must handle them gently. The turkeys are not frozen but "meticulously chilled" at around 37F to keep them fresh. They are entombed in special frozen gel packs. Some are embalmed in a brine flavored with a savory blend of rosemary, thyme, garlic, and sage. The birds are most likely being slaughtered as he speaks. "I got an e-mail today that they're already starting to load them up," Abell says, discussing their fate with three of his lieutenants at the UPS Global Operations Center in Louisville. "They're getting them ready."
An athletic 53-year-old with wire-rimmed glasses, a neatly trimmed mustache, and carefully parted graying hair, Abell is unfailingly gracious, if a little high-strung. He has an elaborate delivery process in store for the "Willie Birds." On Nov. 25, three days before Thanksgiving, UPS drivers will pick them up at the ranch and transport them to two of the company's large distribution centers. From there, they will be flown to UPS sorting facilities. The ones bound for the Southwest will be divvied up at UPS distribution in Ontario, Calif. The ones headed east of the Rockies will be processed at Worldport, an enormous operation near Abell's office in Louisville. Then the turkeys will be jetted to local UPS hubs and handed over to drivers who will carry them to their final destinations. Ideally, this will all happen in 24 hours.
The flight of the Willie Birds has become a holiday ritual for UPS. Concerned about getting it right, Abell has even distributed pictures of Willie Bird boxes to the 6,000 workers who sort packages daily at Worldport so they recognize them. The last thing Mr. Peak wants is for the birds to arrive spoiled. If they're late, UPS has to reimburse the disappointed Thanksgiving diners.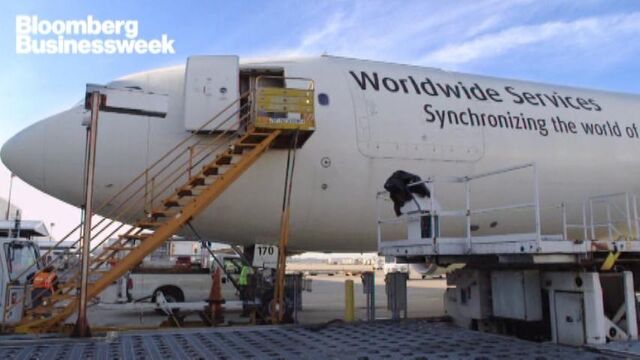 Coordinating the most time-sensitive shipments during the most hectic time of year has always been a challenge for UPS, but the Internet has made Abell's job more crucial than ever. It's become so easy for people to shop via computers and smartphones that they frequently delay their purchases until the last minute. Mr. Peak's job, in effect, is to fulfill the Internet's promise of instant gratification.
If Abell can't come up with a viable scheme, UPS is in trouble. The company expects to ship more than 132 million parcels globally during the week before Christmas alone. If it can't find space for them all, retailers will almost surely turn to FedEx. In addition, Abell must keep a lid on costs. In the past some investors have worried that UPS is too e-commerce focused. David Vernon, an analyst for AllianceBernstein, notes that it's usually more profitable to carry large shipments to businesses than to transport books to the cozy homes of Internet shoppers. But he says UPS is managing to turn a profit on the latter with careful planning. "I think some of those fears are starting to recede," he says.
Maintaining profitability is especially difficult during peak season when UPS's delivery expenses rise. This year, UPS is adding 55,000 part-time holiday workers, leasing 23 extra planes, and effectively building a second trucking fleet to handle the seasonal package flow. None of this is cheap. It's up to Mr. Peak to plan accordingly.
Perhaps the biggest holiday challenge for UPS is satisfying Amazon.com, which doesn't behave like a traditional retailer. In November, Amazon unveiled a plan to deliver packages on Sundays with the help of the U.S. Postal Service rather than UPS. In December, Jeff Bezos, Amazon's chief executive officer, told 60 Minutes the company was experimenting with delivering packages by drone. Many people snickered. UPS did not. Ross McCullough, vice president of corporate strategy, says UPS is studying drone delivery, too. "I believe these things will be part of the system in the future," he says. "I don't know when." He says UPS is also weighing the potential use of driverless vehicles.
Then there are the factors Mr. Peak can't control. This year there are only 26 shopping days between Thanksgiving and Christmas, compared with 32 last year. That means UPS has to shove what it describes as a record number of parcels through a smaller window. Winter storms can also upset Abell's plans. "The biggest challenge is the weather. When you have a shorter season, you have less time for recovery," says UPS CEO D. Scott Davis. "You just hope you don't have ice storms." It isn't only that ice can ground UPS jets and halt its trucks. The company has found that when people are snowed in, they do more online shopping. So when UPS digs itself out, it has to deliver even more presents. Abell doesn't know what to expect this year from the weather, but he is ready to sort boxes by hand himself if an emergency arises. "I hustled boxes before," he says. "I can do it again."
 
 
Abell has four calendars in his office. There's the UPS corporate calendar. Another shows the deadlines for circulating his peak plan to UPS district managers. The third displays dates for when he has to submit his plans to the company's airplane pilots. Then there's the small calendar on his desk. Mr. Peak keeps it there so he doesn't have to constantly crane his neck to look at the other calendars when he's on the phone.
Abell also carries a worn leather-bound notebook where he keeps his daily to-do list. He doesn't leave the office until he's competed all his tasks. He does the same with his leisure activities but says he stops short of planning his wife's weekends. She won't allow it. He's joking, of course. At least, he seems to be.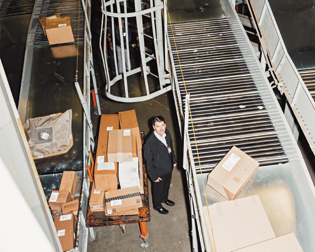 For Abell, holiday planning is a year-round endeavor. He has a team of 11 peak planners, most of whom are, like him, middle-aged UPS vets. They occupy the cubicle farm surrounding Abell's office, toiling under a drop ceiling with fluorescent lights. They may work closely with Internet companies such as Amazon, but they do not dress for the new economy. Nobody's wearing a hoodie. The unofficial peak planner uniform for men: starched shirt, sweater vest, pleated slacks. Their idea of fun is University of Louisville football, smacking golf balls, or shooting deer.
UPS has long dominated the holiday shipping business in the U.S. It started in 1907 in Seattle as a private messenger service delivering packages—along with cocaine and pitchers of beer—to homes. Over the years it morphed into an international company with 397,600 employees, 237 jets, and 101,000 signature brown trucks, vans, tractor-trailers, and motorcycles.
Its rival, FedEx, began in 1971 as a company that moved express shipments of medicine and computer parts. It's only been offering ground delivery since 1998. Today, FedEx has 624 jets, many more than UPS. But its ground delivery fleet is just a third the size of UPS's: about 32,000 vehicles. That makes it hard for FedEx to beat UPS during peak season.
In October, UPS and FedEx announced their holiday shipping forecasts. FedEx said it would carry more than 85 million shipments in the first week of December. UPS predicted it would deliver 129 million packages that same week, easily topping its rival. And UPS will see a second holiday rush during the week before Christmas.

Abell grew up in the Louisville area and, like most of his team members, started at UPS as a part-timer loading trucks in the city. It was 1982, and he'd recently graduated from college. He didn't aspire to work at UPS, instead wanting to be a computer programmer. "I don't know why," Abell says. "I'm really not that great a computer person." He soon decided to stay put, ending up in the planning department. It wasn't a hugely important assignment at the time, but that changed. In 1999, UPS began transforming its hub at Louisville International Airport into the central sorting facility now known as Worldport, which has become the nexus of UPS's air shipping operation and its largest distribution hub. That same year, Abell was put in charge of planning UPS's most urgent off-peak deliveries. The company sorts 1.6 million packages a day at Worldport in the off-peak period—or 10 percent of its daily global volume. On Dec. 23, UPS projects the number of boxes surging though the facility will reach 3.6 million.
Worldport is like something out of a Tim Burton fantasy. The cavernous concrete-and-steel warehouse takes up as much space as 90 football fields. Most of the year, roughly 130 jets fly into Worldport daily. Cargo passes through a gauntlet of scanning machines; packages are immediately separated according to size, Zip Code, and arrival time. Then package handlers load them onto departing jets. Night-shift workers finish up at 3 a.m. If they hurry, they can make it to Stooges Bar and Grill, a nearby tavern, before last call.
 
 
Typically, Abell escapes to Florida in early January with his wife to play golf and decompress from peak season. Then he returns to Louisville and starts to plan for the next one. The process begins with a postmortem analysis of the last peak period. Abell was caught off guard in 2012 during the week after Christmas by the unexpected surge of gift card-driven purchases. "Every kid in the world gets a card for Christmas that's burning a hole in their pocket," he grumbles.
Abell and his team meet with most of their 25 largest customers to see how they feel about the way things went. They're especially attentive to Nordstrom. UPS develops an annual 50-page peak season plan solely for the store. Early in the season, the high-end retailer relies heavily on UPS's trucks to deliver items within five days. But during the week before Christmas, Nordstrom runs out of time and has to start moving packages by jet. That means Abell has to schedule several daily flights in and out of the UPS hub in Cedar Rapids, Iowa, near Nordstrom's distribution center.
Last year, Nordstrom surprised Abell with a last-minute spike in holiday orders. UPS won't say if any of the retailer's sweaters, scarves, and faux-leather jackets were late. This year, however, the peak team put a plan together to pre-sort Nordstrom's packages by region before they leave the store's distribution center to speed things along. "They spike up to 80,000 a day out in Cedar Rapids," says Scott Duckett, a member of the peak planning team. "We have a huge operation where we actually put UPSers on-site at Nordstrom's."
Armed with data from its largest clients, UPS creates a preliminary plan in March. It's really 60 plans in one, taking into account how time-sensitive packages will flow through the system depending on the day of the week, how fast they must be delivered, and whether there are special customer requests. Over the next months the peak team revises it, producing two more versions, one in August and a final version in September. They will be circulated to the company's 15 district managers who have their own gripes and suggestions. "That's why peak planning goes on all year long," says Marty Fry, one of Abell's planners.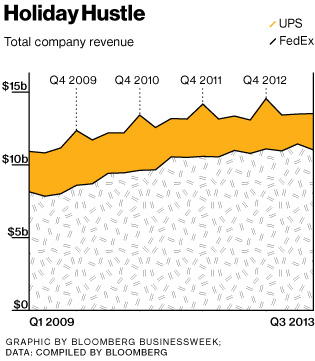 But plans can be ephemeral. Abell grows slightly exasperated talking about a last-minute decision by one of his largest customers that will dump a huge number of packages into UPS's network on the weekend before Christmas. As a result, Abell spent five days developing a new plan allowing UPS to operate double shifts at Worldport during the final weekend before Christmas. By late November, Abell finally had all the pieces in place: the planes, the pilots, and the extra package handlers.
UPS would not name the demanding customer. But Jay Dennis, communications director for Teamsters Local 89, which represents Worldport workers, says it's Amazon, which has three of its own large distribution centers in the surrounding area. "It's primarily Amazon-driven," says Dennis. "It's a huge contract." Amazon declined to comment.
During the holidays, the peak planning team works closely with the UPS contingency department, located one floor below in the same building. The peak guys and their contingency peers have a complicated relationship: The contingency team responds when the peak team's planning goes awry. Often because of the weather and the whims of customers, crises emerge. Among other things, the contingency department has 18 planes positioned around the country that can take off at 30 minutes' notice in emergencies to ensure that boxes are delivered on schedule. Until two years ago the two groups operated in different buildings. Abell says he liked it that way.
The contingency guys have similar apprehensions about the peak crew. Steve Merchant, the contingency department manager, says he has a bunch of secret disaster-aversion strategies. He fears that if Abell discovers them, Mr. Peak will incorporate them into his regular plans. Merchant says he constantly reminds Abell that the emergency jets are off-limits. "Yeah, he tells me that every day," Abell laments. But he's gotten used to sharing the building.
Merchant also says he regularly calls Abell to complain when the peak plan veers off course. "I'm like, 'You guys are killing me. What are you doing?' " Merchant says. "I mean, it's daily." He adds that this happens so often that Abell doesn't always pick up the phone. Perhaps Mr. Peak is on the phone with other malcontents? Merchant isn't the only one who gets upset with the peak guys. "We get yelled at," concedes Fry. "People ask us, 'What's wrong with this plan? Who put this together?' "
Bad weather makes hearts race even faster in Louisville. In 2004 an ice storm crippled Worldport. Abell and his team had to report to Worldport and manually load packages for three days. It was so bad that UPS drivers ended up delivering them on Christmas Day to revelers who were startled to see brown-suited workers at their door on a holiday.
The peak guys work 14-hour days through the season but should be especially busy on Dec. 23, the day before Christmas Eve. UPS has a 7 p.m. cutoff for overnight shipments, but it frequently bends the rules. Last year, Barnes & Noble had an unanticipated rush on Dec. 23 at its distribution center in Monroe Township, N.J. The bookseller contacted the company and arranged to race 1,500 packages to Newark Liberty International Airport and put them directly on a UPS plane bound for Louisville. Harry Schutte, senior vice president for operations at Lands' End, says he often does the same with smaller loads. "Sometimes I'll throw packages in our car and drive them over to the UPS terminal," he says. "I'll call over there and say, 'Hang on. I've got two more.' "
Abell has seen enough of this seasonal behavior that he tries to get his family to avoid Internet shopping altogether after Thanksgiving. "I'm not going to tell them not to shop," he says. "But I tell them that they should do it early. Early's better."
 
 



If Mr. Peak and his team do their jobs right, it makes all the difference for UPS's delivery personnel, who can be someone's hero—or scapegoat—many times in one day. To get a sense of what peak season is like on the front lines, I put on a uniform and joined Kim Gardenier on her rounds. A 19-year UPS veteran, she's been delivering packages for the last three years in Wayne, N.J. We set out on our journey on Nov. 25, the first official day of the season, at 8:35 a.m. About 7 ½ hours later, Gardenier had delivered 347 packages, including two flat-screen TVs, ice skates, a box of instant coffee, a guitar, and paper towels. I was exhausted. "You'll sleep well tonight," she teased.
Gardenier, on the other hand, could probably have unloaded another truckful of stuff. A lithe 44-year-old with moussed platinum hair, Gardenier spent the day gliding in and out of the mailrooms of suburban office buildings, the loading docks of strip mall stores, and quiet apartment complexes where people greet her in their pajamas at noon. During a stop at a hotel where she frequently drops off boxes, Gardenier entered the kitchen and helped herself to a freshly baked chocolate chip cookie. "Have one," she said. "They're great."
Gardenier maintained a consistently swift pace throughout the day, exchanging short bursts of small talk with her customers, much of it pertaining to football. She was grieving over the defeat of her beloved New York Giants at the hands of the Dallas Cowboys. Many of her customers were similarly distraught.
UPS is famous for requiring its drivers to follow 340 delivery and pickup methods, which include a directive to "politely inquire" about any shipments customers are making with competitors. Gardenier has come up with her own variations. She uses all her senses as she navigates her route. She sniffed the air as she hurried past an apartment. "There's something burning in there," Gardenier said. It was probably someone's lunch. She listened carefully, answering a bird's lonely warble. She found it strange that there weren't more squirrels out.
She tries to be hyperaware of everything because she wants to avoid accidents and get her deliveries done on time, especially during peak season when the contents of her truck take on a special significance. "I didn't understand the meaning of Christmas until I started working here," Gardenier said. "I was like, 'Look at all those packages!' "
Before it's here, it's on the Bloomberg Terminal.
LEARN MORE