U.S. Electronics Maker Knowles Adapts to a Changed China
A U.S. company takes drastic steps to keep a Chinese presence
By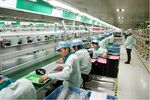 If you've ever used a smartphone, phone, tablet, laptop, or camera, chances are you've used a Knowles Electronics product—and it may have come from Knowles's factory in Suzhou, China. Based in Itasca, Ill., Knowles makes the tiny receivers and microphones that go into many products of Apple, Samsung, BlackBerry, and Huawei, among others.

Knowles, a subsidiary of manufacturing conglomerate Dover, is trying to figure out how to stay in China, which has changed beyond recognition since the company arrived in Suzhou in 1995. "When we came it was obvious that very low-cost labor was an important driver," says Steven Lu, China managing director of Knowles, which also makes components for hearing aids. "Now wages for some positions have gone up five times and even more." Rising land and raw materials prices and an appreciating yuan have further upended the business model.
Low-end producers of textiles, sneakers, and toys have been shutting their China operations and relocating to Vietnam, Cambodia, and India. That's not an option for businesses that pack a lot of engineering knowhow into their products. "In the past 10 to 20 years, China has developed a very complete supply chain for us. The whole ecosystem is right here," says Lu. "And all the major cell phones are now produced in China. Staying close to them is a major driving force" to stay put.
The central government wants companies such as Knowles to remain, as long as they help China manage the shift from mere assembly to advanced manufacturing. Policymakers have set a target of 9 percent annual growth in the production of more sophisticated goods. To make sure only the smartest companies thrive and to hasten China's exit from low-margin, low-pay, low-tech industries, Chinese regulators have created a tougher corporate environment. They have allowed the yuan to appreciate, aggressively enforced labor and environmental regulations, and increased the average minimum wage in 24 provinces and cities by 18 percent in 2013.
The entire process is sometimes called tenglong huanniao, or "clearing the cage and changing the bird"—the bird being traditional low-tech manufacturing. Sixty percent of exports are now medium- or high-tech goods, up from less than 40 percent in 1995, estimates the Royal Bank of Scotland.
Knowles, which is being spun off as a standalone publicly traded company in 2014, has had to rethink its entire global manufacturing network to keep its China operations. It's moving its labor-intensive, 1,000-worker factory, which makes simple hearing aid parts, to the Philippines, where line workers earn less than half what Suzhou workers get. At the same time, it is shifting production from its British plant in Norwich to Suzhou. The U.K. plant makes more sophisticated ceramic parts for telecom equipment. Although Chinese wages have risen sharply, workers in China still cost only 30 percent to 40 percent of what British workers cost, says Lu.
Factory worker turnover in China can reach 2 percent a month and rise to almost triple that right after Chinese New Year, when migrant workers visit home. Lu has linked wages to seniority and has started offering 500 yuan to 600 yuan ($82-$99) post-holiday bonuses to lure back workers.
Lu and his research and development chief, John Kuai, are scrambling to equip their workers with the skills to monitor and manage more automated assembly lines. Already some 70 Chinese employees have traveled to Knowles's U.K. facility for training, while British engineers have gone to Suzhou to install the automated assembly lines Knowles is moving from its British plant. In the next few years, Knowles China aims to have far fewer people on the factory floor in Suzhou. The number of line workers could drop from 80 percent of the Suzhou facility to about 60 percent. The number of engineers, technicians, and white-collar staff could double.
For China, upgrading means being squeezed on both ends. "On quality and product design, China needs to catch up with Germany, the U.S., and Japan. At the same time, on the cost side, China needs to make sure it won't be overtaken by an India or Indonesia," says Raymond Tsang, a partner in the Shanghai office of consultants Bain & Co. For Lu, the goal is simple: upgrade fast. "Otherwise," he says, "we know in five years we won't be able to survive."
Before it's here, it's on the Bloomberg Terminal.
LEARN MORE