Telefonica German Deal Review Is Said to Focus on Airwaves
Cornelius Rahn and Aoife White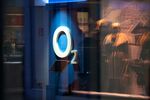 Telefonica SA's bid to combine its German phone unit with Royal KPN NV's E-Plus will face a probe by European authorities concerned the carrier may gain too much wireless spectrum, people with knowledge of the matter said.
The European Commission will examine how the deal affects frequency allocation in Germany's $27 billion wireless market -- Europe's biggest -- and the ability of so-called virtual operators to piggyback on networks, said the people, asking not to be named because the deliberations are confidential. The commission is set to announce an in-depth review into the deal today and isn't opposed to reducing the number of nationwide networks to three from four, two of the people said.
Possible spectrum concessions may "need to be more ambitious because of greater concerns about going from four to three in a market of this size," said Peter Alexiadis, a lawyer at Gibson Dunn & Crutcher LLP in Brussels. "Spectrum is arguably the most valuable asset that an operator can buy."
Ceding airwaves to a rival would be painful for Telefonica and KPN, reducing the benefits from a combination that the companies valued at as much as 5.5 billion euros ($7.5 billion). Spectrum is a limited resource that constrains how much data and call traffic a phone company can carry. Lack of access to it prevents new mobile operators offering services and competing with existing companies, EU antitrust chief Joaquin Almunia said this year.
In-Depth Probe
The commission has to decide by the end of today on whether to open an in-depth probe, which would prevent German antitrust officials reviewing the deal. It will cite concerns about competition in the wholesale and retail markets when it announces its decision, but won't yet make specific demands for Telefonica and KPN, one of the people said.
The 8.55 billion-euro merger, giving Madrid-based Telefonica control of the enlarged company, would create Germany's largest wireless carrier by customers, surpassing the local units of Deutsche Telekom AG and Vodafone Group Plc. The deal was announced in July and the companies expect to complete it in the middle of 2014.
KPN shares fell 0.5 percent to 2.30 euros at 9:31 a.m. in Amsterdam trading. Deutsche Telekom added 0.7 percent in Frankfurt, Vodafone rose 0.4 percent in London, and Telefonica was little changed on the Madrid exchange.
AT&T Blocked
While the U.S. government blocked AT&T Inc.'s attempt to buy Deutsche Telekom's T-Mobile USA two years ago, an approval of the combination of Telefonica Deutschland and E-Plus by Europe's antitrust regulator may reinforce expectations for more mergers and acquisitions across the region. Consolidation in Germany would "create an earthquake in Europe," Paris-based Orange SA's chief executive officer, Stephane Richard, said in September.
Telefonica Deutschland will absorb E-Plus, which pioneered wireless flat rates in Germany in 2005 and led rounds of price cuts. The commission may insist that the merged company pledge access to its networks for other companies, two of the people said. Virtual operators using the two networks include Drillisch AG and Freenet AG's Mobilcom-Debitel.
A combined Telefonica Deutschland and E-Plus would hold about 387 megahertz of spectrum, compared with 155 MHz each for market leaders Deutsche Telekom and Vodafone. While frequencies in the 800- and 900-MHz range are evenly distributed, Telefonica would vastly outstrip its rivals in short airwaves of 1.8 gigahertz and higher, licenses which are best suited for serving large number of customers grouped in narrow spaces, such as in cities.
Expiring Frequencies
The licenses in the 900 MHz and part of the 1.8 GHz span are set to expire at the end of 2016, prompting Germany's Federal Network Agency to consider whether that would mitigate the imbalance. The Bonn-based watchdog has said it may auction those off as part of a larger spectrum sale.
The network agency is working with the European Commission and Germany's antitrust regulator on assessing the merger's effects on frequency allocation, its President Jochen Homann said this week, adding that no conclusion had been reached. While the German cartel office has asked to review the deal, Almunia has indicated that the EU will keep by saying it's a "European case."
As part of an in-depth probe, the commission often requests information about finances and customers. It asks other market participants to share concerns and provide data for regulators to assess the effects of the deal. The acquirer has the option to offer remedies, which the commission has to find acceptable in order for the deal to go ahead.
'Massive Imbalance'
"The main issue with the potential merger between Telefonica and E-Plus is the frequencies above 1 gigahertz," Philipp Blank, a spokesman for Bonn-based Deutsche Telekom, said in an e-mail. "There's a massive imbalance there, and solutions have to be found."
Antoine Colombani, a spokesman for the commission, declined to comment, as did representatives for Telefonica, E-Plus and Vodafone.
In the past two years, carriers in the Netherlands, the U.K., Austria and the Czech Republic spent more than $12 billion on airwaves, which are central to government pledges to blanket populations with fast Internet access. Europe has fallen behind the U.S. and some Asian countries in the rollout of infrastructure required for transferring high-quality video and music as well as corporate data.
Hutchison-Orange
A merger review allows competition regulators the opportunity to redraw the market by reallocating spectrum. Hutchison Whampoa Ltd., seeking to win approval for its bid for Orange Austria last year, offered spectrum and network access to rivals to allow a new market entrant.
The Austrian review shouldn't be a model for the German deal because Austria had "too many head-to-head competitors in the marketplace," unlike the far larger customer base in Germany "where the fourth player can clearly survive," Gibson Dunn's Alexiadis said.
Regulators' attitude toward consolidation is also being tested in Ireland. The commission last month opened an in-depth probe into Hutchison's plan to buy Telefonica's Irish unit, the country's No. 2 operator. A ruling will be issued by March 24.
Before it's here, it's on the Bloomberg Terminal.
LEARN MORE