Online Christmas Tree Orders Rising as Convenience Trumps Tradition
Web sales are growing as buyers choose convenience over romance
By and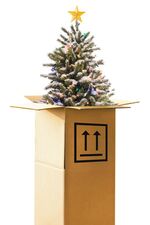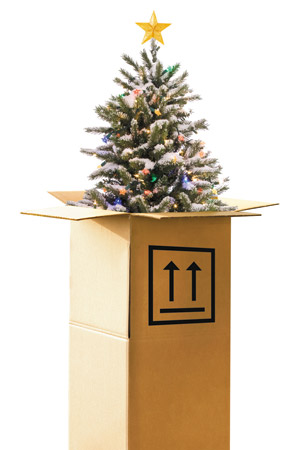 It's snowing. The children laugh and prance through the woods. Dad fells the perfect fir and carries it home, where the family happily decorates it while singing carols and drinking cocoa. That yuletide dream, peddled in Hallmark cards and Lifetime movies, is about as believable as flying reindeer. For Christine Chen, the reality is often squabbling over the right tree, scratching the car with the branches, and leaving a trail of needles as it's crammed through the door.
So this year, the new mom went tree shopping in the place she goes for most purchases: the Internet, where she paid $136.74 for a 7-foot fir. As more consumers such as Chen opt for convenience over fantasy, online tree vendors are seeing sales surge. Chen, a public policy analyst from Belmont, Calif., says the upsides include "no needles in the car!" and a pickup service after the holidays. "With a newborn in the house, it's a lot easier to get stuff delivered."
Although online sales make up no more than 3 percent of the $1 billion U.S. holiday tree market, according to the National Christmas Tree Association, more retailers are starting to sell trees on the Web. Home Depot, the biggest seller of Christmas trees in the U.S., began offering them online last year and says it has expanded its lineup for this season, with trees ranging from $69 to $223. Web sales represented about 1 percent of the 2.6 million holiday trees it sold last year. British home-improvement chain Homebase just started selling them online, from £10 ($16.30) for a 2-foot-tall tree to £85 for a 9-footer. They can be picked up at a store, or delivered for £6.95.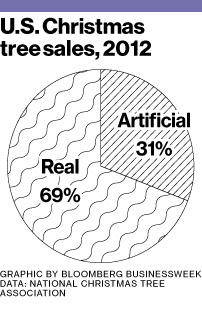 "I'm convinced this will explode," says Michael Nyholm, head of Swedish Christmas tree vendor Julgransajten, which began to offer them online in 2007 and sold 1,000 trees through its website last year. Although that was just 2 percent of its overall sales, he says, the online business is growing by 50 percent annually. The company pledges to replace any tree that doesn't arrive in impeccable condition. Last year, Nyholm says, only two customers asked for a replacement. "It's very smooth and easy. You save time and energy," says 31-year-old Markus Schramm, a marketing executive from Stockholm whose annual Christmas-tree schlep had become "a burden."
Some online tree purveyors are reshaping the business by calling the transaction a rental. Chen, for instance, got a potted fir from Rent A Living Christmas Tree, a California company that picks up the evergreen after the holidays and returns it to a nursery where it will grow for another year. London-based Lovely Branches, which offers a similar service, says about 80 percent of its trees survive the journey from farm to living room and back. Renting costs customers about the same as buying.
The entry of big retailers is making life more difficult for the pioneers of online tree sales. "There are more and more competitors in the market now," says Ashley McCarthy, marketing director of Pines & Needles, a British Christmas tree purveyor that's sold online for 15 years. The company, which sells about 23,000 trees a year and has outdoor lots across London, generates about a third of its business on the Web. Customers place orders by phone or on the company's website for next-day delivery. Those who really want to avoid family time can even pay the company to decorate the tree. Says McCarthy: "People are realizing that there is a demand for this kind of service."
Before it's here, it's on the Bloomberg Terminal.
LEARN MORE