Moving Beyond the 'Same Questions' on Women Entrepreneurs
By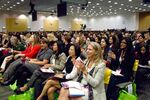 The Center for Women's Business Research (CWBR), one of the first initiatives to study women entrepreneurs in the U.S., is being recast as the Global Initiative for Women's Entrepreneurship Research (GIWER) and moving from McLean, Va., to Babson College's Center for Women's Entrepreneurial Leadership (CWEL) in Wellesley, Mass.
What in the world of academic acronyms is going on?
The New Entrepreneur turned to Patricia Greene, a Babson professor and former president of CWBR, to find out. "One of our frustrations is that we seem to asking the same questions," she says, noting that academic research on women entrepreneurs has traditionally pursued three themes: "Why don't women-owned businesses grow? Why can't they get capital? Do [women] build different types of companies?"
Bringing GIWER to Babson will make it easier for researchers to work with the Diana Project, which focuses on the difficulty women-owned business face raising equity funding, and the Global Entrepreneurship Monitor, which publishes an annual report on women entrepreneurs worldwide. Those two research efforts are also housed at Babson.
Greene hopes the collaboration will produce more robust research on the world's 187 million women entrepreneurs and, in turn, help drive new policy. Some tasks the initiative might take on include measuring the benefits women entrepreneurs bring to their communities, suggesting gender-based entrepreneurship policy, and studying the kinds of role models who make a difference for female business owners.
How does one pronounce the new organization's unwieldy acronym? "We say 'GEE-wer,' as in 'Gee, we're actually doing this,'" she says.
Before it's here, it's on the Bloomberg Terminal.
LEARN MORE