Fuji Xerox Delays Operating Profit Margin Target a Year
Grace Huang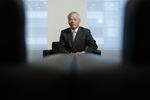 Fuji Xerox, Asia's biggest maker of photocopiers, delayed its target of a 10 percent operating profit margin by a year because of weak sales as it focuses on emerging markets to expand revenue.
"We remain committed to the target, but the timing for achieving it is likely to be delayed for another year," President Tadahito Yamamoto said in an interview yesterday in Tokyo, citing slower than expected sales and falling prices of low-end copiers. The company, which had a margin of 7.4 percent in the 12 months ended March 31, had targeted 10 percent this year and now expects to achieve it in the 2014 financial year.
Fuji Xerox is bolstering revenue by expanding into services including software and security to reduce its reliance on selling new machines amid falling prices. Large corporate clients, including Sony Corp. and Hitachi Ltd., are helping limit the impact of increased competition from rivals, including expansion by Samsung Electronics Co.
Printer and photocopiers shipments to Asia expanded by 3.6 percent in the quarter ended Sept. 30, exceeding the growth rate of global deliveries of 2.2 percent, according to the research firm Gartner Inc. Fuji Xerox opened a factory in northern Vietnam in November that will be able to produce 2 million units a year by April 2016, the company said Nov. 19.
The company is 75 percent owned by Fujifilm Holdings Corp. while the remaining 25 percent is held by Xerox Corp.
Salmat Acquisition
Fujifilm paid A$375 million ($332 million) for the business process unit of Sydney-based Salmat Ltd. in 2012, adding large-scale direct marketing and data management.
The company is trying to expand documentation services such as printing and delivering direct mail in Japan, Hong Kong, Singapore, and other developed countries in Asia to increase profit margins, Yamamoto said.
Fuji Xerox earned more than half of Fujifilm's operating profit in the year ended March 31, according to data compiled by Bloomberg.
The copier company expects almost 50 percent of sales to come from outside Japan this year and is planning to boost advertising, especially in China, as it targets more revenue from international markets, Yamamoto said.
"We are not satisfied with our sales and market share in China," he said. "It's a big market and there is more space for growth."
Before it's here, it's on the Bloomberg Terminal.
LEARN MORE