Sea Drones Venture Into Uncharted Waters
Startups launch unmanned sailboats for research and military exercises
By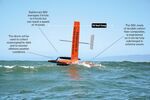 In early November, an orange, pod-shaped vessel arrived in Kaneohe, Hawaii, successfully completing a 2,336-mile voyage from San Francisco through gale winds that would have challenged the most skilled sailors. Only there were no sailors on board.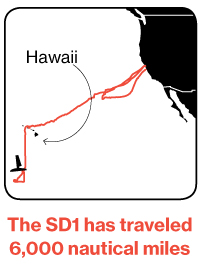 The 34-day trip marked the first ocean crossing by an unmanned wind-powered boat: the SD1, made by Saildrone. A recent entrant in a nascent market for autonomous watercraft, the SD1 and similar vessels can cover long distances, thanks to advances in wing and hydrofoil design and drone technology. "It's very satisfying to disprove doubters who said it would never cross an ocean or survive a storm," says Saildrone's co-founder and chief executive officer, Richard Jenkins.
The SD1—19 feet long and 7 feet wide, with a vertical carbon wing that extends 20 feet above the water—was designed to break distance and speed records. Work on the craft started in the spring of 2009, shortly after Jenkins set the world record in an extreme land sail across Ivanpah Dry Lake in the Mojave Desert. Looking for a new challenge, he decided to build an unmanned vehicle that could circumnavigate the globe. He enlisted the help of an engineer friend, and by 2012 two others joined the effort. With financial backing from Google Chairman Eric Schmidt's Marine Science and Technology Foundation, the Alameda (Calif.)-based company was founded.
Today, Jenkins sees the SD1 as a floating research platform, able to carry instruments and payloads for collecting oceanographic and marine life data for academic research and for the National Oceanic and Atmospheric Administration. Sensors and other instruments collect data, and two-way satellites can send and receive information from the Saildrone workshop in Alameda. Data from the drone also can be monitored on mobile devices via an app designed by Jenkins's team.
Large research ships can cost from $30,000 to $100,000 a day to operate, Jenkins says; the bulk of that covers fuel and a crew. As an unmanned, wind-powered craft, the SD1 can reduce those costs.
"This has big implications for the cost of ocean science measurements," he says. But that's a longer-term goal. Saildrone is still in the R&D phase, Jenkins says, "and not trying to sell to a market." He declines to comment on any financial aspects of the business.
Companies such as Harbor Wing Technologies are further along in developing autonomous unmanned sailboats for commercial and defense markets. The Seattle-based company has a $10 million contract to build long-range, robotic surveillance boats for the U.S. Navy, according to CEO Stuart Platt, a retired naval officer. He sees growing demand for reconnaissance boats and great potential in wind power.
Harbor Wing's X-2, whose developers include three America's Cup designers, has completed Navy testing. The wind-powered craft is built to survive hurricanes and can be mounted with weaponry. According to Platt, the X-2's wing can deliver the same thrust as a small jet engine: "It can drive vessels more efficiently than in days gone by."
Harbor Wing also has plans for commercial cargo shipping. The company is developing a 30-foot drone that can carry 2,000 pounds of cargo. "When you consider the tonnage of cargo hauled across the planet by water, an immense amount of fuel could be conserved and an immense amount of carbon not released into the atmosphere if it's moved by sail," Platt says.
Saildrone remains focused on research. The company plans to deploy a fleet of boats next year, including one drone that will collect data for a Stanford University marine scientist researching shark migrations in the Pacific. The next-generation craft, the SD2, will sail from the Northern California coast in mid-2014, equipped with an acoustic receiver to pick up signals from tagged sharks and other fast-swimming ocean species. It will report their real-time positions via satellite to the Internet.
Jenkins's competitive streak is still intact. Soon after arriving in Hawaii, the SD1 was sent off on a new voyage. The boat has passed the 100th day of its journey through the South Pacific.
BOTTOM LINE -
The bottom line: Saildrone and Harbor Wing are capitalizing on advances in drone technology, and wing and hydrofoil design.
Before it's here, it's on the Bloomberg Terminal.
LEARN MORE