pursuits
Value of Frequent-Flyer Miles Will Soon Drop for Delta and United Travelers
By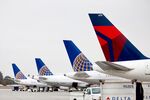 The number of award miles needed to snag a seat in the premium cabin will rise dramatically next year at Delta and United—and airline mile collectors are fuming.
The biggest changes in both airlines' loyalty programs will be for international travel in first and business class, where some award levels on United will jump as much as 87 percent. To be awarded a first-class ticket now from North America to the Middle East, for example, a traveler has to spend 150,000 frequent-flyer miles. Beginning Feb. 1, that award seat will require 280,000 miles when flying on one of United's partner airlines. The same trip on United's own planes will require 180,000 miles, up from 150,000. From North America to Europe, first class on a partner airline will rise 63 percent, from 135,000 to 220,000 miles.
Delta is introducing increases on June 1, with round-trip business class from the U.S. to Europe rising by 25,000 miles, to 125,000 miles; round-trip flights to Asia will increase 20,000 miles, to 140,000. (Delta plans smaller award level hikes from Feb. 1 to June 1.) The new award levels for coach seats are largely unchanged, with only minimal, 5,000-mile hikes on some routes.
The airlines say the increases are necessary due to higher costs for travel and because they've improved their products and services after mergers and a broader industry restructuring. A Nov. 1 "speaking points" document (pdf) from United to its sales force said the MileagePlus increases mark the first changes in several years and was needed "to offset the increased cost of providing award travel, particularly premium-cabin award travel and award travel on MileagePlus partner carriers." The airline declined to comment on Wednesday on partner costs.
Scoffing at the scope of the award inflation and the airlines' rationale, frequent flyers have been ranting on social media and online forums.
"This is a blow to the solar plexus with a simultaneous kick to the groin," a poster called jetsetr wrote on Nov. 1 on Flyertalk.com, a forum popular with airline mileage junkies, calling the new levels "quite shameful." Another writer, tommy777, suggested that "if the United management ever gets canned, they could just move right in and take over a banana republic with an inflation like this." Online, some Delta SkyMiles members have begun referring to their miles as "Sky pesos," given their perceived decrease in value because of the inflated award levels.
Much of the ire no doubt is because Delta and United—and possibly American, once its merger is farther along—have directed the increases at what has long been considered the most valuable aspect of airline mileage plans: long-haul premium travel awards. Business and first-class tickets are usually the most expensive, especially on highly rated partner airlines, such as Singapore, ANA, Lufthansa, and Air France, where the onboard service generally is better than U.S. carriers' offerings. The award changes at Delta and United come after both carriers imposed new minimum spending levels for 2014 for travelers who want to qualify for elite status in the carriers' mileage programs.
The award ticket level hikes have not been matched by Delta and United partner airlines and suggest the U.S. airlines may be trying to reduce the number of award redemptions, says Gary Leff, a travel blogger in Arlington, Va., who writes for View From the Wing. Difficulty in redeeming frequent-flyer miles for a free ticket is one of the most common complaints from mileage collectors. "If you raise the prices for seats, you lower the demand," Leff says.
Leff and other mileage experts suggest travelers redeem as many miles as possible before Feb. 1 to get award seats at the old levels. Miles "are a propriety currency with no independent central bank, let alone currency board, no mandate to minimize award price inflation," Leff wrote last month. "Miles are worth more today than they will be tomorrow."
Before it's here, it's on the Bloomberg Terminal.
LEARN MORE