Carnival Sees Smoother Waters, Putting 'Voyage Disruptions' in Its Wake
By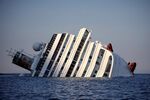 The financial bleeding may have stopped for Carnival, with cautious optimism from executives on Thursday that both pricing and booking levels are returning to historical norms after being decimated by the massive publicity nightmares named Costa Concordia and Carnival Triumph.
A fourth-quarter profit of 4¢ per share topped analysts' forecast of a break-even performance, and sales of $3.66 billion also proved better than expected. Still, the $35 million quarterly profit at the world's largest cruise line came in $76 million lower than in the same period of 2012—a steep drop that speaks to the extensive consumer backlash and restructuring expenses Carnival has confronted this year. For the full fiscal year, the company earned $1.2 billion, $300 million less than in 2012.
"We have so far experienced a faster recovery for the Carnival brand than originally anticipated, and our team is working very hard to keep that momentum going," new Carnival Chief Executive Officer Arnold Donald said on a conference call today with analysts. Executives referred to the ship troubles as "voyage disruptions."
The big trouble for the parent of Princess, Carnival Cruise Lines, Holland America, and other brands started with the fatal Concordia disaster off the coast of Italy in January 2012, followed by a fire aboard its Triumph in the Caribbean a little more than a year later. The turnaround effort eventually forced the company to offer deep discounts to fill its ships.
The Triumph fire and various regulatory investigations also spurred Carnival to invest in new safety equipment for its fleet and to hire several executives to oversee operations. The episodes also led to the replacement of longtime CEO Mickey Arison this summer.
To help win back customers and encourage others to try its cruises, Carnival announced a vacation guarantee this year, offering passengers a refund if they aren't satisfied with a cruise; the offer ended on Dec. 15. The company has also spent heavily on advertising to help restore Carnival's sales. Executives today said it's premature to predict how long the intensive marketing would be required.
Before it's here, it's on the Bloomberg Terminal.
LEARN MORE