Actavis Managers Reap $115 Million on Warner Chilcott Buy
Aaron Kirchfeld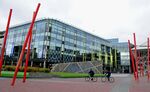 Actavis Plc awarded Chief Executive Officer Paul Bisaro and four top managers about $115 million in early-vested stock and retention bonuses after the U.S. generic-drug maker bought Ireland-based Warner Chilcott Plc. It was a rare instance of rewarding executives of the acquirer.
Actavis -- which relocated to Dublin through the deal -- accelerated the $101 million stock vesting so the executives wouldn't have to pay a 15 percent U.S. tax, according to a July proxy statement. The levy was enacted in 2004 to discourage companies from moving jobs to low-tax countries. The former New Jersey-based company was able to cut its corporate tax rate by more than half to 17 percent with the move.
Bisaro and other executives were awarded another $14 million in what Actavis called retention bonuses, according to a Nov. 5 filing. Those cash payments will serve as an incentive to stay with the company until the executives receive new stock next year, according to a person familiar with the matter, who asked not to be identified as the amounts aren't finalized.
"Actavis executives got the best of both worlds," said Robert Jackson Jr., a Columbia Law School associate professor and former adviser to the Department of the Treasury. "The idea that shareholders should have to pay for executives to not pay taxes has been roundly rejected by institutional investors."
Retention bonuses are typically given to executives of the company being acquired. Shareholders of Actavis approved the takeover and the early vesting in September.
Actavis's $5 billion purchase of Warner Chilcott, announced in May, is one of a number by U.S. companies that have reduced their corporate taxes by acquiring another firm in tax-friendly locations, a process known as inversions.
Other Options
The deal with Warner Chilcott wasn't the only option for Actavis. Earlier this year it rejected offers from fellow generic-drug makers Mylan Inc. and Valeant Pharmaceuticals International Inc., people familiar with the matter said at the time. Both companies are based in the U.S.
David Belian, a spokesman for Actavis, declined to comment beyond the filings. Actavis located its global headquarters in Dublin, leaving its administrative office in Parsippany, New Jersey, according to its web site.
The early vesting was justified as "it would not be appropriate to permit a significant burden arising from a transaction that was in the interests of stockholders to be imposed on the individuals most responsible" for the takeover's success, Actavis said in the proxy statement.
'Carefully Considered'
The board of directors, when reviewing the various options, "carefully considered the potential impact" of the tax and concluded that the company's so-called reporting officers -- which included other managers with stock -- would've been "deprived of a substantial portion of the value" of their equity awards, the filing says.
By vesting immediately, the executives should owe about $50 million in taxes on the $100 million in stock compensation, according to the company's filing. The early vesting before the acquisition was completed on Oct. 1 avoids their being liable for an additional 15 percent in taxes.
Belian declined to comment on the number of people that would've been affected or the amount.
The tax on stock compensation, known as Section 4985 and part of the 2004 Jobs Creation Act, was meant to discourage executives from moving American firms to tax havens through acquisitions, Brandon Hayes, a senior manager at Ernst & Young, wrote in an article for International Tax Review in March.
Excise Tax
"By imposing an excise tax on the insiders, Congress tried to dissuade the corporation's decision makers from approving an inversion," he wrote. Hayes didn't respond to calls and e-mails requesting comment.
Other companies have used the same tactic as Actavis. Jazz Pharmaceuticals Inc., then based in Palo Alto, California, agreed to buy Dublin-based Azur Pharma Ltd. in September 2011 and accelerated the vesting of top management's stock. In July, U.S. drugmaker Perrigo Co. agreed to buy Irish drug company Elan Corp. and said it would pay its executives enough to cover the 15 percent levy.
While early vesting is legal, proxy adviser Glass, Lewis & Co. LLC wrote in August that it was "concerned" about how Actavis accelerated the process, because it "may result in significant windfalls for executives."
The firm still recommended that shareholders approve the payments, as did two other proxy advisers -- Institutional Shareholder Services Inc. and Egan-Jones Ratings Co.
Small Fraction
ISS, in its Aug. 26 report, said the payment "appears to be a change in policy," though it supported the move because it was "a small fraction" of the $5 billion purchase price and "no other golden parachutes payments will occur."
Bisaro was granted early vesting on shares amounting to $40.1 million, and a $5 million retention bonus. Sigurdur Olafsson, president of Actavis Pharma, got $21.1 million in stock options and a $4 million bonus, according to the filings. Todd Joyce, chief financial officer, got early vesting on $10.7 million in stock and a $1 million bonus. Robert Stewart, president of global operations, got $17.6 million for vesting and $3 million in bonuses and Chief Legal Officer David Buchen had $11.3 million and $1 million.
The shareholder vote on the early vesting was non-binding. Actavis expects to provide "appropriate new retention and incentive arrangements," it said in the July filing, without disclosing a sum.
'Golden Parachute'
Actavis called the payments a "golden parachute" in the filing. The term typically refers to agreements meant to compensate executives who might lose their jobs if a company they work for is taken over.
"Golden parachutes for acquirers are very rare," said Jackson, who previously worked in the executive compensation department at law firm Wachtell Lipton Rosen & Katz. "It is increasingly more typical for executives even of the target company to waive their right to the golden parachute when they stay on."
Under the golden-parachute compensation scheme, Warner Chilcott's top three executives, including CEO Roger Boissonneault, received about $36 million in cash, equity awards, benefits and tax reimbursements, according to the proxy filing. They were also given certain compensation guarantees if the takeover led to the termination of their employment. The three have all left the company.
In Europe, politicians from Switzerland to Germany to Spain have proposed reining in management pay, and the European Union plans to cap banker bonuses.
'Frowned On'
Investors had applauded the deal, which helped Actavis expand its women's health business in addition to the tax benefits. As part of the takeover of Warner Chilcott, the companies have chopped about a third of their U.S. specialty-brands sales force, or approximately 350 jobs, according to a statement on Nov. 20.
Actavis shares have risen by about 50 percent since Bloomberg News first reported the talks with Warner Chilcott on May 10, citing people familiar with the matter. Third-quarter adjusted earnings before interest, taxes, depreciation and amortization rose 61 percent to $489.2 million from the year-earlier period on higher sales of $2.01 billion, the company said Oct. 29.
"Transaction bonuses are typically frowned on by shareholders," said Simon Patterson, the founder of executive renumeration consultancy Patterson Associates LLP. "It's far better practice to make management responsible for what they deliver in companies and award performance over the long term."
Before it's here, it's on the Bloomberg Terminal.
LEARN MORE