Woody Harrelson Is Crowdfunding His 'Tree-Free' Paper Business
by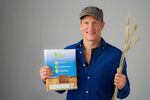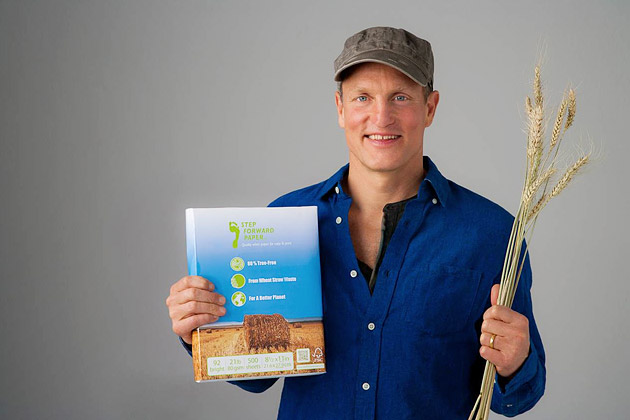 The actor Woody Harrelson is known for his roles in such films as White Men Can't Jump, Natural Born Killers, and The People vs. Larry Flynt. He's also an environmentalist who in 1998 co-founded Prairie Paper Ventures to make paper from crop waste instead of trees. The idea is to save forests as demand for paper increases (pdf) despite lofty claims about the coming paperless era. "Just know that two boxes of this paper saves one tree, so you can make a very real difference," Harrelson says in a video on the company's site promoting its "new paper paradigm."
It took around 14 years for the Winnipeg business to develop a way to turn wheat straw left over from harvesting into paper. The result is just as high-quality and affordable as the conventional stuff made from wood, says Jeff Golfman, who co-founded Prairie Paper with Harrelson and Clayton Manness, a former Manitoba finance minister. Manufactured in two mills in northern India, the line, called Step Forward, acts like regular paper and works in standard printers. "We like to say the most remarkable thing about our paper is how unremarkable it actually is," says Golfman. "Where our process is unique is in the formulas [and] recipes we're using."
Last year Prairie started selling at Staples Canada stores and staples.ca. This year the company added its products to staples.com, where a ream, made of 80 percent wheat straw waste fiber and 20 percent wood fiber, goes for about $8.50. Earlier this month, Staples Advantage, which supplies businesses and institutions, began carrying it. Now the 25-person business, which Golfman says has raised about $10 million in government grants, equity, and "sweat labor," is trying to sell $5 million in equity stakes to keep up with demand and launch a completely "tree-free" line in 2014.
To raise the loot, Golfman is using Optimize Capital Markets, a new equity crowdfunding site based in Toronto that matches small companies seeking financing from investors. Despite the risks outlined in Prairie's offering, including "insufficient funds to accomplish management's immediate objectives" and "little to no history of sales or profits," Golfman says more than 50 investors have expressed interest since he listed it earlier this month. "I've been an entrepreneur for 27 years, and it's very difficult to raise money through traditional channels, whether that be debt or equity," he says.
For now, deals on equity crowdfunding sites in Canada are open only to accredited investors, as in the U.S., where the Securities and Exchange Commission is inching closer to opening the floodgates to everyone. Matthew McGrath, Optimize Capital's president and chief executive, says he wants to show entrepreneurs and investors that "crowdfunding is not just about some guy in his garage who can't get $5,000; this is about good quality companies tapping a much more efficient marketplace." He notes the average deal on his site is $3 million to $5 million, with investors generally needing to pony up a minimum of $100,000.
The celebrity appeal of Harrelson, who does a couple of sales calls over the phone with Golfman each month, is boosting Prairie Paper's new campaign. "We didn't know each other before we were business partners," says Golfman. "Now he's a dear friend … very instrumental to the whole thing."
Before it's here, it's on the Bloomberg Terminal.
LEARN MORE