Why Steven Cohen Wasn't Charged With Insider Trading
By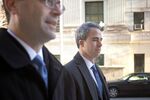 After four weeks of trial, 13 witnesses, intrigue, betrayal, accusations of lies, and many numbing hours of explanations of what "shorting," "cash flow," and "opex" are, a jury comprising primarily women is deliberating the fate of SAC Capital portfolio manager Michael Steinberg. They are also, on some level, debating the fate of SAC founder Steven Cohen: He was the ultimate target of the investigation that led to Steinberg, and it's now clear why Cohen was never charged.
Steinberg, a longtime Cohen confidant, was charged last March by U.S. prosecutors with illegal trading in two tech stocks, Dell and Nvidia. He is the highest-ranking and the only current (he's on paid leave) employee at SAC to be caught up in the government's multi-year crackdown on insider trading. Throughout the trial, Steinberg's wife, family, and friends have packed the first few rows of Judge Richard Sullivan's courtroom in lower Manhattan, dressed in sumptuous-looking black clothing as if they were attending the funeral of a Mafia don.
More than any other case in the government's recent string of insider trading prosecutions, this one appears to be close. The government presented strong evidence that Steinberg traded on information illegally obtained from inside Dell and Nvidia—prosecutors produced e-mail after e-mail, suspicious instant message exchanges, and testimony from a witness, Jon Horvath, Steinberg's former underling at SAC. Horvath testified that he obtained the illegal tips and passed them up the food chain to Steinberg, who then knowingly traded on them. In spite of that, Steinberg's defense lawyer, Barry Berke of Kramer Levin, has done a masterful job of creating doubt and confusion about exactly what happened, spending hours wearing Horvath down until he acknowledged certain memory lapses.
One thing that is clear: Both Horvath and Steinberg went out of their way to keep Cohen in the dark just enough so that he wouldn't know why they were making their allegedly illegal trades. And Cohen himself appears to have been very careful. On Nov. 14, 2008, for example, Cohen held an Instant Message chat with Steinberg about Dell to discuss their conflicting positions in the stock:
AIM:mike72ms [Steinberg] dell rpts thrusday
AIM:cas359 [Cohen] y …
AIM:mike72ms we like it…weve been good here if u remember
AIM:cas359 call me… it's a shame-cause I can be helpful to you too but that;s life
AIM:mike72ms steve I have an analyst that covers this stock… he has industry contacts… im not hiding anything from u
The exceedingly cautious Cohen replied: "I would prefer to talkon phone"
Cohen knew better than to put anything sensitive in writing. In the end, that might explain why the government's white whale is still cruising the open sea.
Before it's here, it's on the Bloomberg Terminal.
LEARN MORE