Why Political Infighting in Turkey Could Help the Economy
By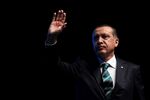 For the past decade, Turkish Prime Minister Recep Tayyip Erdogan has run one of the world's best-performing emerging market economies. Now his grip seems to be loosening—and that may not be a bad thing.
Over the past two days, at least 84 people have been detained in a corruption investigation that is reaching into the highest levels of Erdogan's government and the country's business elite. Those arrested include the sons of several cabinet members, the head of a state-owned bank, and the general manager of Turkey's largest real-estate developer. News photos showed piles of U.S. dollars and euros allegedly found in the home of the interior minister's son.
According to Turkish press reports, the crackdown is being orchestrated by a rival faction within Erdogan's AKP party. The prime minister said on Dec. 17 that he "won't bow to any threats." In retaliation, five police commissioners who helped organize the arrests were dismissed from their jobs today.
At first blush, the situation looks pretty scary. Shares in some blue-chip Turkish companies posted double-digit declines after the arrests, and the Turkish lira fell against other major currencies. "Investors were blindsided," Julian Rimmer, a trader at CF Global Trading UK told Bloomberg News. The situation "is an unmitigated disaster for many portfolio managers," Rimmer said.
Erdogan has been feuding with followers of Fethullah Gülen, a U.S.-based cleric who heads a moderate Islamist movement known as Hizmet. Formerly allied with Erdogan and still part of the AKP, the Hizmet has close ties to law-enforcement agencies and its members, who are angry over government plans to close private schools affiliated with Gülen's movement.
Unhappiness with Erdogan doesn't stop there. Hundreds of thousands of people joined protests last summer over his authoritarian rule.
While Erdogan's firm grip helped advance Turkey's economic success over the past decade, it now threatens "to make things worse, not better," journalist Daniel Dombey writes in a forthcoming article for Foreign Affairs. The prime minister has centralized power over the economy, silenced critics, and installed allies in big companies such as mobile operator Turkcell. That, along with Erdogan's sometimes "erratic" behavior, raises questions "about the Turkish government's transparency, rationality, and stability," Dombey writes.
Per-capita incomes have risen dramatically under Erdogan, and the economy is forecast to grow a relatively strong 4 percent this year. But Turkey has a worrisomely high trade deficit and lags most developed countries on education levels and on employment of women.
The anti-corruption arrests, although politically motivated, could ultimately yield economic benefits, says economist Charles Robertson of Renaissance Capital in London. "Parties in power become corrupted," he says, and highly-corrupt countries tend to underperform economically. The anti-corruption drive "can be interpreted as an attempt by the AKP to reinvigorate its reputation" for transparency.
Before it's here, it's on the Bloomberg Terminal.
LEARN MORE