The Federal Reserve Is Just Not That Into You
By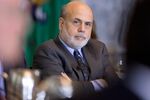 "A lot of people, including myself, are now looking at the data and saying 'OK, if that's the way they want to go,'" John Silvia told Bloomberg News on Monday. "All of this talk about tapering without the context of the numbers threw the market off." Silvia, chief economist at Wells Fargo Securities, sounds like a lot of analysts have this year: Lovers burned, now wiser, but still hopeful.
Ben Bernanke is the worst boyfriend ever. Sometimes he seems to be into a taper and even makes plans. Then he changes his mind. He says he doesn't even know what he wants. But then he keeps dropping these hints. "Their credibility is starting to be questioned," wrote Chris Rupkey in a note last week. Rupkey, economist at the Bank of Tokyo-Mitsubishi, is also waiting for a text. The one Bernanke promised.
Silvia and Rupkey would have a right to be annoyed if they were in a relationship with the Federal Reserve's Open Market Committee—the Fed says something, they know what it means, they respond accordingly, the Fed does what it says it would. But they are not in that relationship. They aren't in any relationship with the Fed. The committee is, sadly, exactly as ambivalent as it says it is. It doesn't know what it wants yet. It'll see how it feels. Those aren't hints. Silvia, Rupkey, market: The Federal Reserve is just not that into you.
Central banks didn't used to have to communicate. Alan Greenspan, who began his tenure as Fed chairman "proudly mumbling with great incoherence," was offering by the early 2000s what monetary economists call "forward guidance," letting the market know roughly what his plans were. (Alan Blinder, himself once on the Federal Reserve's board of governors, has a history of this up to 2008 here.) A global catastrophe compelled Ben Bernanke to be even more explicit.
Problem is, once you to begin to communicate, to really talk, it's hard to figure out what talk has meaning. To manage expectations, Bernanke said in his August 2011 statement that economic conditions were "likely to warrant exceptionally low levels for the federal funds rate at least through mid-2013." (Quote pulled from a more recent history of Fed communications by John C. Williams, president of the Federal Reserve Bank of San Francisco.) Aha, the response. He's setting up a calendar. The middle of 2013 came and went. Bernanke never called.
In May of 2013, in testimony to Congress, Bernanke uttered the words "within the next few meetings." Yes, said the markets. He is totally into the calendar and definitely wants to do something with us. Soon. Forward guidance is like flirting. It sets the expectation that everything has meaning.
Markets, I'm here as a friend. Ben Bernanke is clear when he really wants to be. He consistently says the committee is going to look at several different indicators of economic health, including unemployment, and that it's also concerned about price stability, including deflation. This is a complex decision they're making, and things may change by the next time you think you have a date with a Fed taper. The Fed is really busy right now, seeing as it's the only body in Washington capable of carrying out any economic policy at all.
And if the Federal Reserve says it's busy, it's got a lot going on right now, it'll see at the next FOMC meeting, and it doesn't really know what it wants, yet—you know what that means. Deep in your heart, you know it. Ben Bernanke's not dropping you special hints. He's just not that into you.
Before it's here, it's on the Bloomberg Terminal.
LEARN MORE