The Fed Cuts Bond-Buying Ever So Slightly
By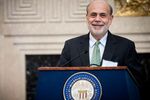 With Federal Reserve Chairman Ben Bernanke's eight years in office drawing to a close, the central bank announced today it will ease up just a bit on the monetary-accelerator pedal because of improvements in the U.S. job market. Instead of buying $85 billion a month in Treasury bonds and mortgage-backed securities, the Fed will buy $75 billion a month. That's still a lot considering that before the financial crisis monthly bond purchases were precisely zero.
The Fed's goal is to push up the prices of long-term bonds and thus hold down long-term interest rates. That helps sustain housing and other rate-sensitive sectors. Even talk of a Fed taper caused 30-year fixed mortgages, as measured by Freddie Mac, to rise to 4.42 percent this month from 3.35 percent in May. "In light of the cumulative progress toward maximum employment and the improvement in the outlook for labor market conditions," the Federal Open Market Committee said in a statement, "the committee decided to modestly reduce the pace of its asset purchases."
This probably isn't the end. The rate-setting committee said it "will likely reduce the pace of asset purchases in further measured steps" if the labor market continues to heal and inflation creeps back up toward the Fed's target of 2 percent.
The committee chaired by Bernanke was careful to say it's still going full throttle on short-term rates, where it maintains a target of zero to 0.25 percent for the federal funds rate. It said it will probably keep rates in that zone "at least as long" as unemployment exceeds 6.5 percent, assuming the outlook for inflation goes no higher than 2.5 percent.
Unemployment has fallen much faster than was predicted when the Fed set 6.5 percent as its threshold; it fell to 7 percent in November. Today the Fed said it "likely will be appropriate" to keep rates close to zero "well past the time" unemployment goes below 6.5 percent, especially if projected inflation stays under 2 percent.
Dissenting from the dovish side was Boston Fed President Eric Rosengren, who said cutting bond purchases was "premature."
The Standard & Poor's 500-stock index posted its biggest gain in two months, rising 1.7 percent. Bond investors weren't as happy, sending bond prices slightly lower and thus interest rates slightly higher.
"Going from $85 billion to $75 billion is not a big deal, so that's encouraging," said Jeffrey Kleintop, chief market strategist at LPL in Boston. Scott Anderson, chief economist at Bank of the West, wrote that the Fed had "tiptoed into the taper pool." In contrast, Luke Bartholomew, investment analyst at Aberdeen Asset Management, said the Fed's move was "hawkish" considering that inflation is still well below the Fed's target. "Deflation remains the fear that dare not speak its name," Bartholomew wrote.
In the last post-FOMC-meeting press conference that Bernanke will hold as chairman before his term expires at the end of January, the chairman fielded questions ranging from whether his likely successor, Janet Yellen, is on board with his policies (yes) to whether he plans to move back to the state where he grew up, South Carolina (no).
Bernanke struggled a bit to explain why the Fed was slowing its bond-buying even though unemployment remains above where the Fed wants it to be and inflation is still too low for its taste. He said that bond-buying has always been a "secondary" tool for the Fed in part because its effects remain poorly understood. The jump in long-term rates over the summer was "very destabilizing" and "still not understood," Bernanke said.
Before it's here, it's on the Bloomberg Terminal.
LEARN MORE